Lack of capacity on a special-assistance vehicle during disembarkation preceded a reduced-mobility passenger's fall from the staircase attached to an Air France Airbus A350-900 at Paris Charles de Gaulle, investigators have determined.
The passenger was hospitalised with a broken arm and head injury after falling from the stairs on 29 June last year.
Such was the concern of the crew over the nature of the injuries that the captain transmitted a 'Mayday' distress call, several minutes after the accident, in a bid to speed up the emergency medical response.
French investigation authority BEA says the A350 arrived at parking position H07 following a service from Toronto.
Nine passengers with reduced mobility were among the 258 occupants. Although Air France had a procedure to relay, via the ACARS communication system, the number of passengers who would need assistance to disembark, this was normally reserved for when the figure reached 15 or more.
To assist the passengers, an elevating platform was parked at door 4L, while a regular staircase was positioned at door 2L, with a van – also serving as an assistance vehicle – parked next to it.
After other passengers had left the aircraft, the cabin crew undertook to help those with reduced mobility and their companions.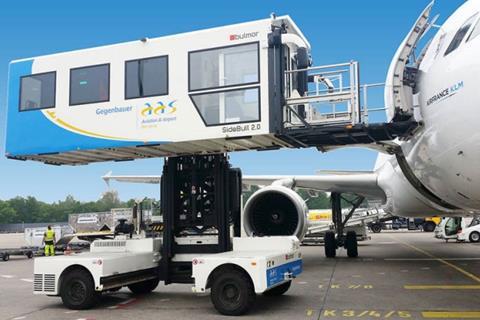 BEA says, however, that the number of people wishing to board the elevating platform exceeded its capacity. Boarding was limited to those passengers who actually required the vehicle, so one passenger and their companion – who did not want to be separated – were directed instead to the forward stairs, where the assistance van was available.
The companion paused to express "dissatisfaction" with an arrival agent, says BEA, and the reduced-mobility passenger started to descend the stairs alone – subsequently tripping and falling about halfway down.
Although the captain contacted air traffic control on a ground frequency, the time taken for help to arrive spurred the captain to transmit a 'Mayday' distress call, about 13min after the passenger fell. Firefighters were on the scene some 6min later, followed shortly afterwards by an ambulance.
BEA says the aircraft arrived at a time when other inbound long-haul flights put strain on assistance capacity, and points out that Air France had not given advanced notice of its requirements.
"The cabin crew then had to manage an unforeseen situation where the number of passengers wishing to use a specialised vehicle exceeded its capacity," it adds.
Fatigue, a high workload, and a lack of co-ordination and communication between various parties during the disembarkation process, also contributed to the event.