One of the two US cellular companies due to rollout their fifth-generation wireless networks tomorrow, AT&T, is to voluntarily defer activating a limited number of towers located around particular runways amid the continuing row about the impact of 5G transmissions on airline operations.
AT&T and Verizon are both due to to switch on their 5G networks from 19 January, having already delayed the activation of the 5G services for two weeks.
Airlines yesterday urged the administration of President Joe Biden to prohibit 5G wireless transmissions near certain airports, warning of a major impact on flight operations after US Federal Aviation Administration prohibited auto-landings and other flight operations at airports where interference is possible.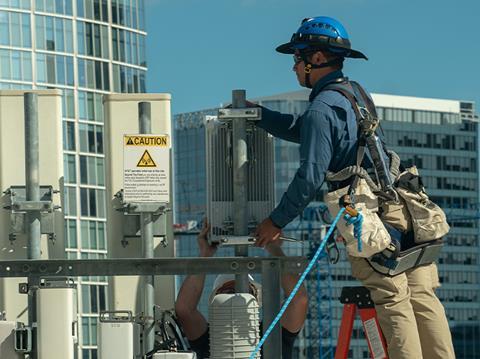 Today AT&T took a step to ease the immediate potential for flight disruption by delaying the roll-out at some of the towers tomorrow, while noting the remainder of its 5G services will go ahead as planned.
"At our sole discretion we have voluntarily agreed to temporarily defer turning on a limited number of towers around certain airport runways as we continue to work with the aviation industry and the FAA to provide further information about our 5G deployment," says an AT&T spokesperson.
"We are frustrated by the FAA's inability to do what nearly 40 countries have done, which is to safely deploy 5G technology without disrupting aviation services, and we urge it do so in a timely manner," the spokesperson adds, noting it has had two years to prepare for the roll-out.
The FAA had on 13 January issued notices to airmen (NOTAMs) that bar aircraft operators from performing auto-landings and other radio-altimeter-based automated flight manoeuvres at airports across the USA. The move was in response the potential for 5G cellular transmissions to interfere with aircraft radio altimeters.
Two days ago it cleared several Airbus and Boeing models to operate low-visibility landings at 48 of 88 "most-directly-affected" airports, meaning 45% of the fleet can fly low-visibility landings, the FAA said. Approved aircraft types include Boeing 737s, 747s, 757s and 767, and Airbus A320-family jets, A330s and A350s. Boeing's 787 is not among approved types.
In a 17 January letter to US officials, the heads of 10 airline companies said "immediate intervention is needed to avoid significant operational disruption to air passengers, shippers, supply chain and delivery of needed medical supplies".
The FAA yesterday said it was continuing to work with the aviation industry and wireless companies to try to limit 5G-related flight delays and cancellations.