French investigators have determined that a Hop ATR 42-500 sustained serious damage after a lost nut caused a main landing-gear door to separate during descent to Aurillac.
The turboprop (F-GPYF) had departed Paris Orly on 25 March 2018, with 48 passengers and three crew members.
As it descended through 18,000ft a "shock accompanied by a thud" was felt by those on board, says French investigation authority BEA.
The aircraft did not deviate significantly from its course and the crew found no abnormal flight parameters, and continued with the approach to Aurillac.
None of the occupants was injured. But after landing the pilots noticed substantial damage to the fairing at the left wing root and a flap, and that the left main landing-gear door – weighing some 15kg – was missing.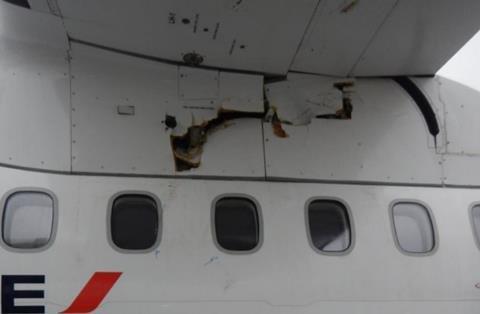 BEA says the loss of a nut on the door's rear assembly caused the door to break away from the aircraft, striking the wing root. The nut has not been recovered.
"The precise cause of the loss of the nut could not be established," it states.
But it says that another nut on the door's forward assembly, and the two corresponding nuts on the right-hand door, did not fully match the design of the components in the parts catalogue.
BEA says ATR documentation detailing possible alternative parts, and the torque needed to tighten them, contained "errors". The maintenance documentation was "complex" regarding the choice of nuts, it adds, and could lead to an "inadequate" selection.
These factors could potentially have contributed to the loosening and unscrewing of the nut on the detached door's rear assembly.
The 1996 airframe had completed just over 34,800 cycles. Maintenance on the separated hatch was conducted in June 2015 but the nuts were not changed, and BEA could not determine how the nuts first came to be installed.
But it says that an examination of the Hop ATR 42 fleet following the incident discovered that about 50% of the nuts did not comply with the catalogue specification.