ATR turboprop operators are being instructed to tweak the speed margins in the aircraft's flight manual to provide better sufficient protection against stall risks in icing conditions.
The potential for performance degradation and stall during severe icing has long been a concern, particularly since the October 1994 accident involving an American Eagle ATR 72 in Indiana.
This has spurred regulatory measures to improve safety, including mandatory installation of extended de-icing boots, advisories to recognise icing, exit procedures, and 10kt increases in manoeuvring and operating speeds.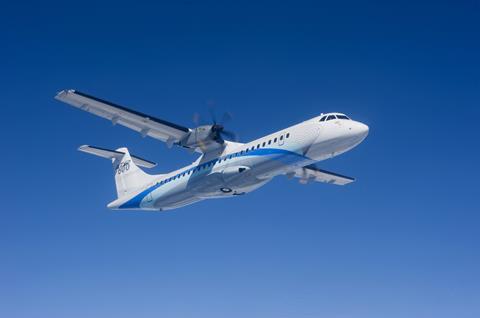 But the European Union Aviation Safety Agency says that, since these directives, experience has revealed that the minimum operating airspeeds in severe icing "do not provide sufficient margins" to stall speeds at high bank angles when exiting such conditions.
ATR has "enhanced" the limitations and emergency procedures sections of the turboprop's flight manual as a result, says EASA.
These revisions are intended to "better reflect the latest in-service experience" and account for recommendations from an upset-recovery working group.
EASA directive, which takes effect on 25 August, requires the manuals of ATR 72s and 42s to be updated within six months.