Investigators have determined that a Russian-operated Viking Air DHC-6-400 suffered a runway excursion after the crew lost directional control while attempting to use engine power to steer.
Operating for regional carrier Taiga on 6 June, the aircraft (RA-67264) had touched down on runway 22, at Nogliki in the Sakhalin region, in a gusting crosswind from the right.
The twin-turboprop was some 6m to the left of the centreline as it landed.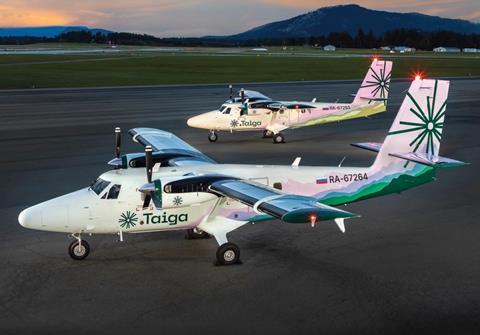 Federal air transport regulator Rosaviatsia says the pilot decided to increase the left-hand engine's throttle while in reverse-thrust mode, to compensate for a tendency of the aircraft to turn to the right.
But such action was not part of the operator's procedures. Rosaviatsia says that, as the engine's speed increased, a regulator reduced the left-hand propeller's speed.
The aircraft's heading shifted 45° clockwise from the runway axis and the DHC-6, having touched down at a distance of 430m, left the right side of the runway at 620m.
It came to a halt 50m from the right-hand runway edge and 665m from the threshold. The aircraft was not damaged. Rosaviatsia says the crew comprised a trainee captain and instructor.
Taiga is the brand name for Yuzhno-Sakhalinsk-based operator Aviashelf, which also uses Mil Ni-8 helicopters. It only introduced the 19-seat aircraft involved in the incident as one of a pair of DHC-6s in December 2020.