Chemical analysis of impact traces has convinced Argentinean investigators that an unmanned aerial vehicle collided with an Embraer 190 shortly before it commenced its final approach to Buenos Aires.
Argentinean investigation authority JIAAC says the Austral Lineas Aereas twinjet – operating from Rosario on 22 December last year – struck a foreign object at 4,080ft, some 20nm north-west of Jorge Newbery airport, but subsequently landed safely.
Examination of the region of impact, on the fuselage, found an oily gel-like substance as well as fibres.
Swabbed samples were analysed by a metallurgical laboratory at the National University of La Plata, which determined that they largely contained carbon, oxygen and nitrogen.
These results suggested the material was carbonfibre while the oily substance appeared to contain organic compounds known to be present in batteries.
"According to the results from the material analysed, it was confirmed that the object that struck the [Embraer] was an unmanned aerial vehicle," says JIAAC.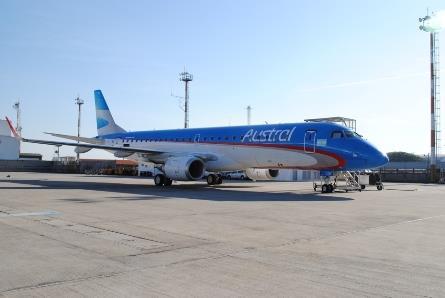 While investigators combed the area in which the drone was likely to have crashed – based on the aircraft's height and speed, as well as wind direction – no debris was located.
"Remains of the [drone] could have provided important information for the inquiry," says JIAAC, providing data on its mass, performance, and operator.
But based on data from a European Union Aviation Safety Agency study, the drone was probably in the 'medium' or 'large' category.
The drone had been flying at night over a populated area within the control zone of Jorge Newbery airport, in the vicinity of the final approach path to runway 13.
Regulations prohibit the operation of drones in controlled airspace without special authorisation, the inquiry points out. But it states that it could not determine whether the drone was complying with the rules.
None of the 75 occupants of the E190 (LV-CDZ) was injured. Cockpit-voice and flight-data recorder information enabled the inquiry to establish the position and height of the aircraft at the time of the collision.