UK authorities are proposing a directive to BAe 146 operators to ensure pilots can override the autopilot during pitch input.
The proposal follows an incident involving a Loganair Saab 2000 which was struck by lightning during approach to Sumburgh airport in December 2014.
Although the crew made instinctive control inputs to climb, the aircraft did not respond as expected because the pilots were unaware that the autopilot was still active and trying to maintain the selected altitude of 2,000ft.
As the turboprop reached 4,000ft it pitched at least 19° nose-down and reached descent rates of 9,500ft/min because the autopilot had trimmed the aircraft to counter the nose-up input.
The Saab exceeded its maximum operating speed by 80kt and only started to climb after descending to 1,100ft.
UK investigators found the pilots' temporarily lost control because they did not understand that the pitch-trim switches had not disengaged the autopilot.
Saab redesigned the system logic in response, in order to ensure the autopilot disconnects when either of the main pitch-trim switches on the control column is activated.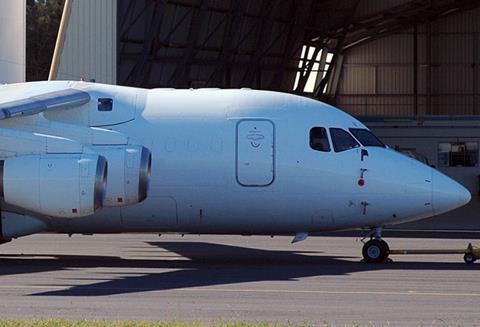 The inquiry recommended that the European Union Aviation Safety Agency review autopilot system designs to check that autopilots do not create a potential hazard if the crew applies override forces to the flight controls.
BAE Systems has not received reports of BAe 146 pilots attempting to override the autopilot, says the UK Civil Aviation Authority – which oversees airworthiness in the country following the UK's exit from EASA.
But it states that the architecture of the type's autopilot system is such that, when the autopilot is engaged, it does not automatically disconnect in response to pilots' pitch inputs or operation of the electric pitch-trim switch.
BAE Systems has previously informed BAe 146 operators of this situation, and recommended that crews check the autopilot status before applying manual inputs.
It also published a service bulletin in mid-September to introduce a modification to the type's autopilot disconnection logic. This ensures the autopilot disengages when the electric pitch-trim switch on either pilot's control column is operated.
The CAA says this modification is designed to "prevent the potential unsafe condition".
Its proposed directive will require operators to implement the modification – achieved through wiring changes to the autopilot engagement circuits – within 12 months.
Comments on the proposal are being invited until 7 January next year.