Grounded Kazakh operator Bek Air is continuing to defend its operations and practices after being slated by the country's regulator in the aftermath of the fatal Fokker 100 accident at Almaty.
Bek Air is accusing Kazakhstan's aviation administration of proving "strained and biased" remarks about the airline's procedures and safety management following an inspection of the carrier.
The administration had particularly highlighted missing data plates on engines which, it said, prevented identification of individual powerplants or their usage.
Bek Air attributes the loss of some data plates to "vibrations and other loads on the aircraft", claiming that it chose to remove plates which were "weakly attached" to expensive components – including engines – and store them at engineering facilities for record-keeping.
"Labels were fitted to the units if they were sent for replacement or repair," it adds. "There has not been a single case of confusion."
While Bek Air claims this practice is not specifically prohibited, it says it will make duplicates to fit on engines and parts to help improve tracking.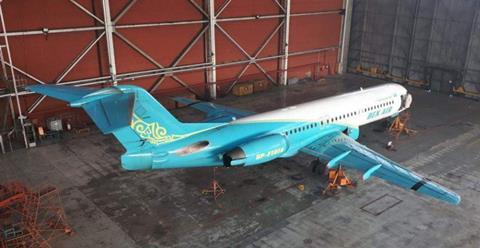 It insists it has no problems with affording spares for its small Fokker 100 fleet and is within its rights to swap components between aircraft if necessary, claiming that it has sometimes been forced take such measures when incoming replacement spares are held up "for weeks" by customs policies.
The airline claims it spent nearly $12 million on sourcing spares from 47 suppliers last year, demonstrating that it has adequate finances to support the fleet.
Bek Air has also countered the regulator's accusations over training and procedures for winter operations.
It argues that its pre-flight procedures include ensuring that control surfaces are clean, including with tactile methods, and that surveillance video indicating that crews omitted such checks "cannot be reliable" if evidence is taken from cameras sited at distances of more than 200m.
Icing remains a prime suspect in the Fokker 100 accident at Almaty which occurred on 27 December, and which led to the carrier's immediate grounding.
Bek Air points out that its cockpit crew members undergo training at the same centre, in Amsterdam, as Air Astana pilots and that, twice per year, the airline also provides supplementary training which covers pre-departure checks during icing conditions.
Under its safety-management system, the airline adds, it regularly conducts training for personnel on operating in different seasons, including the specific temperature, humidity and precipitation risks of winter.