Italian investigators will examine whether a bird-strike might have triggered the fatal crash involving an Aermacchi MB-339 of the national Frecce Tricolori aerobatic team.
The jet had been among a lead formation of five aircraft – with another four in trail – which took off from Turin's Caselle airport on 16 September.
As they started to climb away from runway 36, still within the airport perimeter, the outer left-hand aircraft began to lose height.
Its pilot ejected around 10-20m above the ground, video images of the accident indicate, and the jet then dived before crashing at the far end of the runway, close to where the SP16 perimeter road crosses the runway axis.
The aircraft – designated 'Pony 4' – disintegrated and its fuel ignited.
According to the Italian air force, a passing car on the airport's perimeter was caught in the fire, resulting in one fatality among its four occupants and injuries to the other three.
"It is not possible to confirm the cause of the accident at the moment," says the air force. "One of the hypotheses being studied – given the dynamics of the event – is impact of aircraft with a bird during the very first phase of take-off."
As the MB-339 lost height and descended from the five-ship lead formation, the video footage shows the corresponding aircraft on the opposite side drifting to the right. The inquiry has yet to disclose whether this bears any relevance.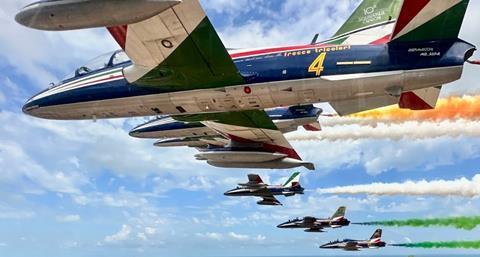 The air force says it awaits updates on the medical condition of the survivors from the vehicle.
It states that the Frecce Tricolori formation had departed for Vercelli, about 65km northeast of Turin, to perform an aerial display. This was part of a programme of flights over regional capitals to commemorate Italian citizens who had served with and supported the armed forces over a centenary of its history.
Turin airport has published a NOTAM stating that runway 18/36 is closed to all traffic until late on 17 September.