South African investigators are probing an accident involving a chartered British Aerospace Jetstream 41, during which a propeller blade apparently penetrated the fuselage.
Regional operator Airlink says the aircraft suffered "substantial damage" after experiencing a bird-strike while landing at Venetia airfield on 3 January.
Venetia is located in the north-east of South Africa and is the site of significant diamond mining activity.
Airlink says the aircraft struck a "large bird" during the landing.
Images circulating on various social media channels purportedly show the aircraft (ZS-NRJ) with one of its five right-hand propeller blades broken off, and a puncture in the fuselage in the propeller-line interval between two passenger windows.
Photographs of the interior also show the remnants of the blade, debris and damage to passenger seats and the cabin walls, although Airlink says none of the turboprop's occupants was injured.
"The aircraft remains at Venetia airfield pending the [South African Civil Aviation Authority's] inspection and a full damage assessment," the carrier adds.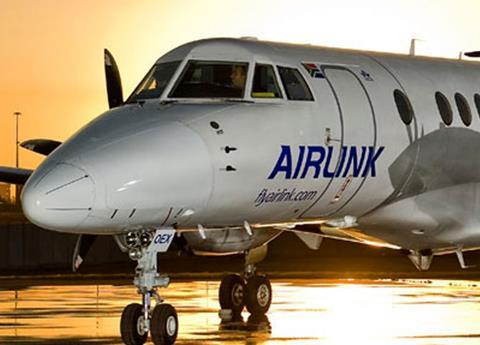 It has not identified the bird species involved in the accident.
Powered by two Honeywell TPE331 engines, the aircraft has been operated by Airlink since it was delivered new to the carrier in 1995.