Boeing is integrating aircraft capability data for the Sukhoi Superjet 100 into the US airframer's performance tool platform to enable improvement to the type's take-off and landing operations.
The agreement to support United Aircraft's Superjet programme through the inclusion of its aircraft performance module in Boeing's On-board Performance Tool system was disclosed during the MAKS 2021 Moscow air show.
This module for the Superjet is already IATA-approved.
IATA co-ordinates with manufacturers and airlines to ensure that data for aircraft performance – for routine aspects such as take-off, landing and route planning, as well as engine failure and other situations – is standardised, as it shifts from hard copy to electronic format.
This is achieved through a specification for such performance data – known as Standard Computerised Airplane Performance, or SCAP – which sets out the requirements.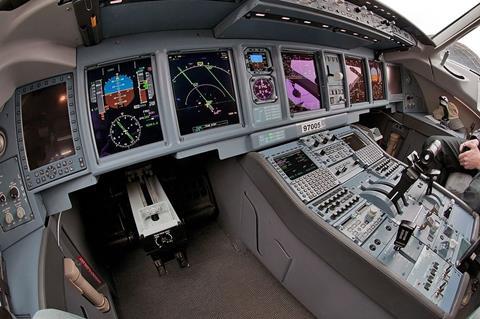 The Superjet was the first Russian-built aircraft to conduct flight-performance calculations through a jointly-developed standardised module.
Boeing's OPT enables pilots and ground staff to make quick real-time calculations of weight, balance, and take-off and landing capability based on runway and weather conditions.
It states that the SCAP module for the Superjet has undergone "successful implementation" into the OPT platform, adding that the Superjet becomes the first type from another manufacturer to be integrated into this tool.
Boeing's president for Russia, Ukraine and the CIS, Sergei Kravchenko, says the development is an "important milestone", with airlines using mixed fleets of Boeing models and Superjets being able to use a single OPT for operations and maintenance.
The Superjet was developed by Sukhoi but its production is overseen by United Aircraft's Irkut division, which also manufactures the MC-21.
Introduction of the Superjet module into OPT, says Irkut deputy director for regional aircraft development Alexander Dolotovsky, is a "logical continuation" of United Aircraft's work with Boeing over the past two decades.