Boeing is developing updated software for 787s to correct an erroneous localiser mode behaviour during ILS approaches.
The US FAA is advising operators of the three 787 variants to notify crews about potential failure by the autopilot flight-director system to capture the localiser, notably during intercept of the localiser at angles of 40° or more.
Several incidents have occurred involving 787s flying approaches to Hong Kong from the east, and the FAA says operators should incorporate "at the earliest opportunity" actions outlined in an operations manual bulletin.
Flight data from the incidents shows that flight-director system guidance partially reduced the intercept angle to the localiser, with the aircraft initially turning towards the localiser heading but then stopping short and flying a constant heading.
This resulted in the aircraft intercepting the runway axis at an angle of 20-30°, says the FAA in a 24 September bulletin.
"Airplanes continued through the localiser at a heading not aligned with the runway centreline," it says.
Both localiser and glideslope modes were engaged, and the flight-mode annunciator on the primary flight display continued to show the active roll mode as 'LOC' – for 'localiser' – without any indication of capture failure.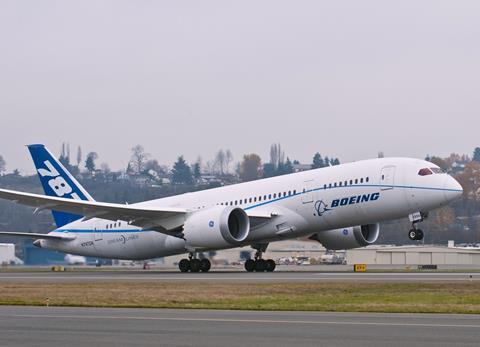 The flight-director system provided guidance to descend on the glideslope, which meant the aircraft continue to deviate from the centreline and descend on the wrong heading.
In all the events the deviation from the localiser was accurately shown by both the localiser pointer and scale on the primary flight display as well as the aircraft symbol on the navigation display.
Boeing has previously issued, in December last year, an operations bulletin on the issue and operating instructions for the autopilot flight-director system during ILS, reinforcing procedures and training.
Hong Kong authorities had also warned 787 operators of possible adverse autopilot behaviour during localiser capture, notably on approach to runways 25R and 25L.
The anomaly, they stated, could result in aircraft flying in proximity to high terrain, and that crews should climb back to minimum sector altitude and conduct a missed approach if in doubt.
Air Canada, Virgin Atlantic, Ethiopian Airlines, and Etihad Airways have all experienced 787 misbehaviour during ILS approaches to the Asian hub.