European safety regulators are intending to impose a 2,000h flight-time limit on passenger aircraft converted to transport freight, as part of a mitigation strategy to reduce the risk of catastrophic fire.
The European Union Aviation Safety Agency has drawn up a proposed deviation from normal freighter certification requirements, in order to achieve compliance with essential airworthiness requirements for transporting cargo in the cabin.
Operators have sought to convert otherwise-dormant passenger aircraft to freighters to provide additional cargo capacity in response to the coronavirus crisis.
EASA has been concerned, however, that granting such flexibility might leave carriers exposed to higher risk of a serious fire, because the normal assumptions of fire criticality in the passenger cabin would no longer hold.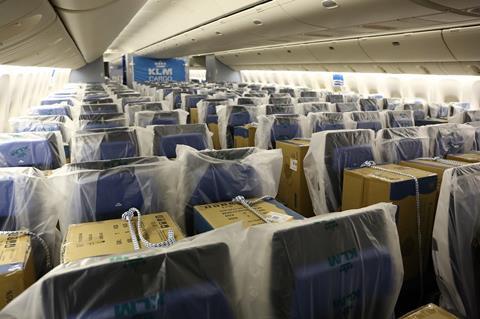 The authority had originally proposed a special condition, to ensure safety levels in line with cargo compartments, but received nearly 170 comments during the subsequent consultation.
EASA's review of these comments led it to conclude that the complexity of performing a fire risk assessment could lead applicants to "underestimate the hazard" associated with a cargo fire.
"The initially proposed certification approach could have been successful only through the introduction of very severe limitations to the type of cargo allowed in the cabin," it adds.
Instead it has opted to impose a time limit – allowing each aircraft to fly no more than 2,000h up to 31 December 2021 – to mitigate the fire risk, assuming that maximum of 2,500 aircraft will be converted.
Based on the statistical evidence on cargo fire probability, it says, these limits are "sufficiently conservative".
EASA's proposed deviation from certification requirements details prohibited types of cargo – dangerous goods, mail, batteries, animals, and items of a "piercing or penetrating nature" that could become projectiles.
It sets out the framework for fire protection, including detection means, the number of extinguishers, and their accessibility.
"If only manual fire-fighting capability is available, protection of the cabin occupants from smoke and toxic gases generated by the cargo fire event can be achieved only if the fire is detected in a timely manner and fully extinguished," it states.
EASA also details loading restrictions, cargo restraint requirements, electrical and oxygen system procedures, escape routes and the criteria for cabin occupants.
It says it plans to monitor the implementation of approved design changes based on this deviation, in order to confirm the validity of its risk-mitigation assumptions.