Risk of coronavirus transmission on board aircraft is lower than that for most other indoor environments, according to a paper presented to a high-level ICAO conference on aviation recovery from the pandemic.
The ICAO conference – running from 12-22 October – is aiming to reach a global consensus on a multilateral approach to enabling safe and efficient recovery from the crisis.
Airbus, Boeing and Embraer undertook computational fluid dynamics testing to assess the spread of virus particles and the risk to passengers, says the paper from the International Co-ordinating Council of Aerospace Industries Associations.
"While methodologies differed slightly, each detailed simulation confirmed that aircraft airflow systems do control the movement of particles in the cabin, limiting the spread of viruses," it states.
Risk of transmission, it says, is reduced by the high-efficiency particulate air filters, the "natural barrier" of the seat back, downward airflow – minimising forward-aft flows – and high rates of air exchange.
"Mask-wearing…adds a further and significant extra layer of protection, which makes being seated in close proximity in an aircraft cabin safer than most other indoor environments," the paper says, adding that face-to-face interaction tends to be limited because passengers face forwards.
Air is exchanged 20-30 times per hour on most aircraft, it adds, a figure which "compares very favourably" with the average of two or three times in an office or 10-15 times in a school.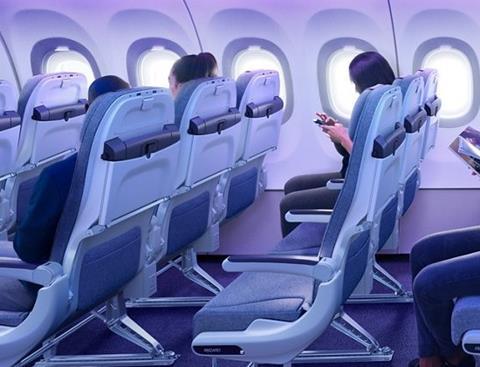 Airbus simulated air movement in an A320 cabin to examine the effect of speed, direction and temperature on expelled droplets, analysing 50 million points in the aircraft, before modelling indoor environments with individuals spaced 2m apart under similar conditions.
"The result was that potential exposure was lower when seated side by side on [an aircraft]," says the paper.
Boeing looked into tracking of particles from coughing or breathing within the cabin, from passengers located in different seats, with and without masks. The study, centred on 737, 767 and 777 cabins, also took into account variations in passengers' individual overhead air ventilation systems.
"Based on the airborne particle count, passengers sitting next to one another on an [aircraft] is the same as standing more than 7ft – or 2m – apart in a typical building environment," says the paper.
Embraer also carried out airflow and droplet dispersion analysis in its aircraft, demonstrating that the risk of on-board transmission was "extremely low".
"The three different approaches used by the manufacturers reached very similar conclusions," says the paper, adding that the airframers' findings "align" with those of peer-reviewed studies.
It points out that the risk "is not zero" but is "substantially lower" than that for other indoor locations, such as shops, cinemas and offices, in which people congregate.