Canadian authorities have detailed the modifications required for operators to return Boeing 737 Max jets to service from 20 January.
While the US Federal Aviation Administration (FAA) has previously issued airworthiness requirements for the type, Transport Canada states that it has "gone even farther" by adopting its own directive and adding "unique" measures to improve safety.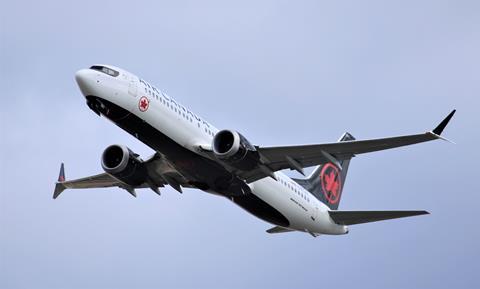 The regulator is mandating the Boeing service bulletin requiring updates to correct the flawed Maneuvering Characteristics Augmentation System software – which contributed to the loss of two 737 Max jets and the subsequent grounding of the type – as well as adjustments to certain wiring, and the inclusion of angle-of-attack 'disagree' alerts.
These 'disagree' alerts will not feature on the head-up display system until a software revision is introduced later this year, and Transport Canada is adding an operational procedure to the Max flight manual to advise crews during unreliable airspeed events.
Transport Canada says its test pilots found that, after activation of the stick-shaker, the "constant noise and vibration" was a "significant impediment" to the safe operation of the jet.
Its directive requires that the pilots are able to de-activate a nuisance stick-shaker, and the fitting of coloured circuit-breaker caps to assist with identifying the relevant ones.
Transport Canada also plans to deviate from the FAA's requirements by including a change to the 'altimeter disagree' procedure, to include a step stating that the aircraft does not meet reduced vertical separation minima criteria and providing guidance to the crew.
Canadian transport minister Omar Alghabra says the airline industry can "rest assured" that the authority has "diligently addressed all safety issues" ahead of allowing the resumption of 737 Max flights.
The regulator states that it approved a revised pilot programme for three of the country's carriers on 21 December, and these operators have since been training their crews accordingly.
Air Canada, WestJet and Sunwing Airlines are the only Canadian operators to have received the Max to date.
Transport Canada says the carriers are implementing the necessary measures and "will be ready for the return to service of the aircraft in the coming days and weeks".