Canadian investigators are to probe an engine-control incident involving an Air Baltic Airbus A220-300 during which both powerplants shut down after the aircraft touched down in Copenhagen.
Danish authorities have delegated the investigation into the 11 July incident to the Transportation Safety Board of Canada.
The board says the twinjet (YL-AAQ) had reached top-of-descent on its service from Riga to Copenhagen when the crew disengaged the autothrottle and deployed spoilers to reduce airspeed.
A few seconds after the autothrottle disengagement, a master caution light illuminated for a right-hand throttle failure, and the crew completed an abnormal checklist for the throttle failure before continuing the approach.
"After touchdown with both main landing-gear on the ground, both engines shut down," says the board, without elaborating.
"The aircraft came to a full stop on the taxiway and was towed to the gate."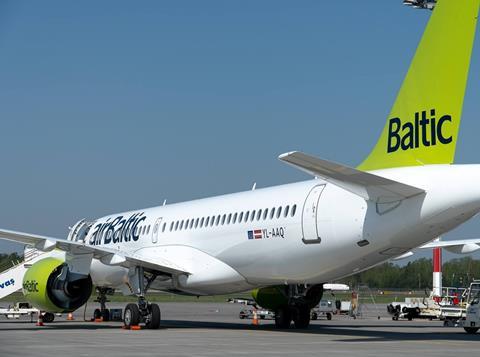 All A220s are powered by Pratt & Whitney PW1500G engines.
None of the 91 occupants was injured, says the safety board. The aircraft had landed on Copenhagen's runway 04L.
Full circumstances of the incident have yet to be determined, with investigators still to identify whether the shutdown was the result of system logic or another cause.
Air Baltic took delivery of the aircraft in April 2019.