Canadian investigators have disclosed that a Boeing 767-200ER freighter which returned to Mexico City after a depressurisation incident was forced into a go-around by a prolonged wait for landing clearance.
The go-around procedure at the high-elevation airport – which included climbing to 12,000ft – triggered cabin-altitude warnings, for which the crew had to re-don oxygen masks.
Transportation Safety Board of Canada states, in a preliminary bulletin, that the Cargojet Airways aircraft (C-FHCJ) had been operating from Mexico City to Cincinnati on 2 May.
As it climbed through 29,000ft the crew heard a "thud noise" from the main cargo compartment, and a "pressure bump" in their ears, it says.
The pressure controller showed the cabin altitude rate of climb was "well exceeding" 1,000ft/min and quickly passed 10,000ft, causing a warning horn to sound, and the crew put on oxygen masks.
After an urgency declaration to air traffic control, the aircraft was given initial descent clearance to 20,000ft.
"The aircraft was flying over mountainous terrain at night, so considerations were made for this," says the bulletin.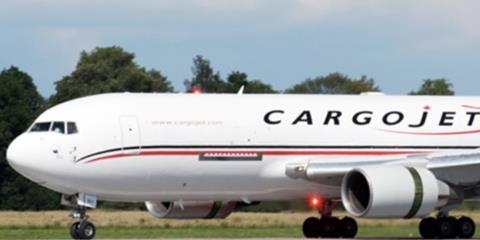 At the time the 767 was crossing the eastern Sierra Madre Oriental range between Mexico City and Poza Rica.
After discussing options for the flight the crew decided to return to Mexico City, and the 767 was vectored for the ENAGA 2B arrival to runway 23L – the longest available at the airport.
Checklist procedures were unable to establish any control over the pressurisation. Once the aircraft had descended to a safe altitude, the crew removed their masks.
The aircraft was second in line for the approach but the preceding aircraft, for reasons which are unclear, chose to vacate the runway – which has a length of over 13,000ft – at its far end.
"When the crew reached decision altitude, no [landing] clearance had been given," says the safety board. "The first officer could not get a word in edgewise to obtain the clearance."
Although the captain disengaged the autopilot, prepared for a late clearance, the crew opted for a go-around at about 100ft.
"Clearance to land was given while the aircraft was well-established in the initial go-around procedure," says the board.
Owing to the published missed-approach procedure's requiring a climb to 12,000ft, the cabin-altitude warnings sounded again and the crew had to don oxygen masks again until the jet could descend once more to a safe altitude on the approach.
It subsequently landed safely on 23L. None of the four occupants was injured.
Investigators have not disclosed the reasons for the depressurisation alert. The aircraft involved was a General Electric CF6-powered airframe, originally delivered to Continental Airlines in 2000, and operated for a time by Russia's Utair, before being transferred to Cargojet and converted into a freighter.