Preliminary information from Iranian accident investigators indicates that the crew of a Caspian Airlines Boeing MD-83 requested to land in the opposite direction to the runway in use, before the jet overran at Mahshahr.
The Civil Aviation Organisation says that the MD-83's pilot was "notified" that runway 31 was in use, but that the pilot "requested" a landing on the opposite-direction runway 13.
Meteorological data released by the inquiry points to winds from 280° at 6kt, which would be consisted with runway 31 being preferable, and suggests a tailwind component of about 5kt for aircraft using runway 13.
Both runway directions are equipped with VOR/DME navigation aids, the Civil Aviation Organisation indicates.
It states that the MD-83 overran and came to rest on a highway about 100m beyond the runway's paved area.
The aircraft, operating as flight 6936, had been chartered by the petrochemicals firm Mahshahr Non-Industrial Operations, says the inquiry, and departed Tehran Mehrabad's runway 29L at 06:42 with 136 passengers and eight crew members.
It cruised at 32,000ft during the course of its 50min flight before conducting its approach to runway 13 and touching down at 07:36, before striking a perimeter fence and coming to a halt blocking the road.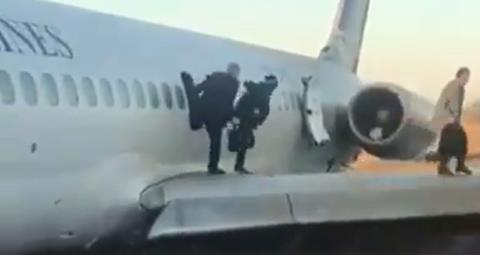 Emergency services attended the scene but all 144 occupants survived, says the inquiry, with only two suffering minor injuries. The aircraft was badly damaged.
While the weather data has still to be fully analysed, it states, it has obtained information indicating good visibility at the time of the accident.
Images from the scene show the thrust reversers on the Pratt & Whitney JT8D engines in the stowed position. The inquiry has yet to indicate whether they were deployed during the landing.
The MD-83's fuel has been drained and the twinjet transferred to another location.
Caspian Airlines acquired the aircraft (EP-CPZ) in 2012, according to Cirium fleets data. It had previously been registered with the fleets of Ukrainian company Khors, as well as operators including Air Burkina, Avianca, Jetsgo and Air Liberte.