UK investigators have found that anti-chafing measures fitted to a Saab 340 failed to protect an engine condition control cable, leaving the crew unable to adjust its power during a climb out of Carlisle airport last year.
The crew encountered difficulties with climb power as the aircraft reached 2,500ft, opting to shut the engine down and return to the airport.
Inspection of the aircraft found that the condition control cable for the left-hand General Electric CT7-9B engine had suffered chafing against the accessory gearbox.
Although the aircraft (ES-NSD) had been modified with chafing protection, the examination showed it was not in the correct location and would not have provided the intended protection.
"It was not established how this occurred," says the Air Accidents Investigation Branch.
Chafing protection had been the subject of a 1988 service bulletin and a subsequent updated bulletin in 2016.
But the inquiry says, although the left engine had been changed in January 2016 and the gearbox in March 2018, it could not establish whether either the 1988 or 2016 bulletin had ever been applied.
A section of the control cable between the hydromechanical unit and pitch-control unit was found damaged.
The aircraft was operated by Estonian company NyxAir. Cirium fleets data indicates it was under wet-lease to Loganair at the time of the 30 August 2019 incident. Loganair had used the aircraft to restore long-absent commercial services to Carlisle just a few weeks earlier.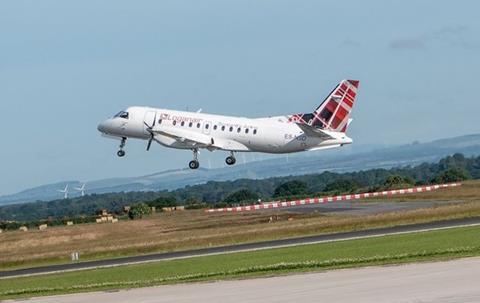 None of the 16 occupants was injured. The operator – which found no other anomalies in its fleet – introduced periodic inspection of the control cables to its maintenance programme after the event, while the manufacturer updated the type's maintenance manual.