French investigators have determined that a Bombardier Challenger 300 crew took evasive action during a serious airprox incident with a glider, which was flying in Basel terminal airspace undetected.
Although the Schempp-Hirth Nimbus-3DM glider was present in the airspace for 20min, its pilot had not activated his transponder nor had he made mandatory radio contact with air traffic controllers.
The Challenger, vectored for approach to Basel-Mulhouse airport, was turning left and descending through 4,600ft at 210kt when it encountered the glider.
Without an active transponder the glider was not picked up by the Challenger's collision-avoidance system.
After being warned by the first officer, the jet's captain disconnected the autopilot, banked up to 45° and expedited the descent, in order to avoid the glider.
French investigation authority BEA says the Challenger crew estimated the glider to be less than 30m away horizontally and practically at the same height.
The glider pilot believed the Challenger was 70-100m distant.
BEA says the absence of full data for the glider's trajectory made confirmation of the horizontal and vertical separation "impossible".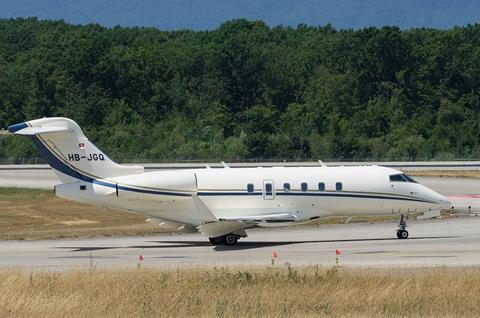 It states that the glider – with two occupants – had departed Sarrebourg on 23 May 2019 bound for Leutkirch.
The pilot told the inquiry that, after reaching 4,200ft near Munster, north of Mulhouse, he commenced a long descent towards the Franco-German border.
BEA says the pilot later attempted to regain altitude with spiral flight, believing he was below the lower terminal airspace boundary which began at 3,000ft.
He thought the glider was flying at around 2,600ft altitude when he saw the Challenger, and told the inquiry he had been "surprised" by the aircraft's presence at this height.
While radio contact was mandatory within the airspace, categorised as Class D, the French civil aviation regulator had not mandated use of transponders by aircraft, such as gliders, which do not have sufficient electrical power supply.
"External surveillance by the crew during the approach made it possible to avoid a collision between the two aircraft," says the inquiry.
BEA adds that the glider pilot had not filed a flightplan, believing it to be unnecessary. But the inquiry says such a flightplan is required for cross-border visual flights to and from France.
There were no injuries to the crew of the Premium Jet Challenger (HB-JGQ), which was positioning from Zurich, or the occupants of the glider (D-KPHJ).