Russian investigators have confirmed that three test crew members were lost in the crash of a prototype Ilyushin Il-112V military transport as it was conducting a flight between two airfields in Moscow.
The twin-turboprop was operating a test flight from Kubinka to Zhukovsky, according to the federal Investigative Committee, which has opened a routine criminal probe into the 17 August accident.
It came down in a forest belt near Zhukovsky at about 11:18, apparently after an in-flight fire affecting its starboard engine.
At least two test pilots and a test-flight engineer were on board. "There are no survivors," says manufacturer United Aircraft.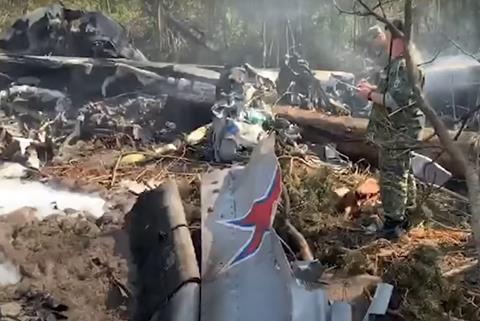 Eyewitnesses and witnesses of the incident are being sought, while closed-circuit TV camera footage is being gathered, the Investigative Committee says.
"Detailed examination of the crash site is being carried out, as well as other investigative actions aimed at clarifying the causes and circumstances of the accident," it adds.
United Aircraft's Voronezh-based airframer VASO, which produced the Il-112V, says the chief pilot of the Ilyushin division, Nikolai Kuimov, was among those lost.
Kuimov had worked at the Ilyushin complex since 1994 and had served as a senior test pilot with the ministry of defence.
VASO says he was involved in flying more than 35 aircraft types – among them the Il-96, Il-76 and Il-114 – and carried out a large number of flight tests, often involving complex and potentially-hazardous situations.
"A significant proportion of them were conducted in extreme flight modes," it adds. "Data obtained made it possible to significantly reduce the duration of the test programmes."
Kuimov was also a regular demonstrator of the company's aircraft during international air shows.
VASO has identified Dmitry Komarov as the other test pilot and Nikolai Khludeev as the engineer on board the Il-112V.