Chinese investigators have disclosed that the China Express Airlines Bombardier CRJ900 had been subjected to a change of wind direction and landed long before overrunning at Aksu's civil-military airport.
The regional jet had been conducting an ILS/DME approach to runway 27 on 29 August, after arriving from Korla.
Civil Aviation Administration of China investigators state, in preliminary findings, that the wind direction changed from a headwind to a tailwind, resulting in a "greater" groundspeed than normal on approach.
The touchdown point, says the administration's Xinjiang regional division, was nearly one-third of the distance along the runway, which has a length of 2,800m.
"There was water on the runway," it adds. "The crew used the brakes late."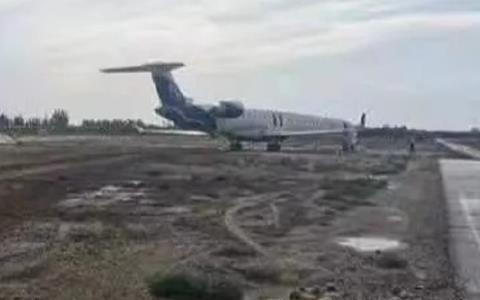 As a result the stopping distance available to the CRJ900's crew was "not enough", and flight G54394 overran, coming to a halt 82m beyond the runway end.
Sixty-four passengers and nine crew members were on board. Four passengers suffered minor injuries during the subsequent evacuation.
Airport authorities closed the runway. The aircraft was towed from its position about two-and-a-half hours after the incident and the airport re-opened some 40min later.
"There was no damage to the aircraft, runway facilities and equipment," the CAAC states, adding that the jet – which had 10,437 cycles and underwent a 4C-check in February this year – showed no history of landing-gear, hydraulic or brake system failures.
Both pilots had total time of around 4,400-4,500h although the first officer, with close to 2,000h, had more experience on type than the captain who had recorded just over 1,000h. Rest and duty times were in line with regulations, the inquiry says.
Meteorological data for Aksu at the time of the incident showed variable winds from 280° to 060°, with good visibility but cumulonimbus formations, thunderstorms and rain in the vicinity. Further analysis of the incident is continuing, the CAAC states.