French investigators have considered the possibility that carbon monoxide from a preceding business jet intoxicated the crew of a Vueling Airbus A320 after it departed Geneva.
The A320 (EC-HQJ), bound for Barcelona, taxied and took off behind a NetJets Cessna Citation 560XL on 17 November 2017.
"Shortly after the retraction of the landing gear, the flight crew discussed the thick exhaust gases emitted by the Cessna Citation," says French investigation authority BEA.
"The captain said that he felt almost nauseous because of them."
As the A320 climbed through 10,000ft, about 5min after take-off, the captain asked air traffic control for information on the Citation, adding that he intended to file a report. The first officer also remarked to the captain that he felt unwell.
The aircraft was transferred to Marseille en route centre and stopped climbing at 29,000ft in order to keep the cabin altitude low.
BEA says the purser was called into the cockpit, and he informed the pilots that there was nothing unusual in the cabin. He was asked to keep the cockpit door open, so the cabin crew could check on the pilots' condition.
Both the captain and the first officer, over the next few minutes, put on their oxygen masks – keeping them on for the rest of the flight – and discussed possible diversion options, subsequently choosing to divert to Marseille.
The crew conducted an ILS approach to Marseille airport's runway 13L and landed without further incident, whereupon the pilots were taken to hospital. Although they were discharged 2h later, both continued to suffer periods of nausea and dizziness for several days.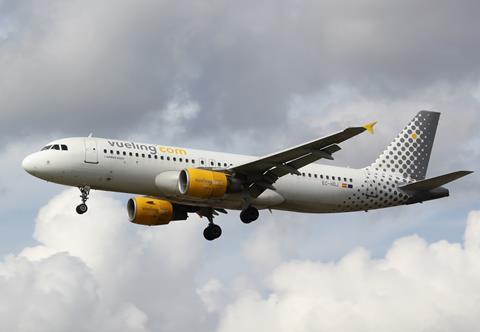 BEA says the crew had initially noticed the "quite acrid" odour while waiting at the holding point at Geneva, some 70m behind the Citation, and it disappeared as the Citation lined up on the runway.
Investigators learned the Citation had undergone maintenance lasting six weeks to 29 September, including removal of the right-hand Pratt & Whitney Canada engine for servicing. The aircraft flew for 53h before the A320 incident.
No oil leak was found after the incident, and the Citation crew had not noticed anything abnormal during the Geneva departure.
Tests and maintenance inspections on the A320 found no anomalies, and later flights did not generate any technical reports of similar occurrences. The inquiry also dismissed the possibility of food poisoning. The aircraft has since been transferred to US carrier Allegiant Air.
"Despite the wide range of actions undertaken, the investigation was not able to factually identify what caused the flight crew's symptoms and physical discomfort," says BEA.
But it states that the hypothesis of carbon monoxide inhalation from the Citation is "consistent" with the information obtained and serves to explain the effects experienced.
BEA says, however, that intoxication from another substance which either vanished quickly, or was not sought during the investigation, "cannot be excluded".