Dutch investigators have stressed the importance of adhering to standard procedures after an Embraer 190 crew continued with an unstable approach, with neither pilot calling for a go-around despite ground-proximity system warnings.
The KLM Cityhopper aircraft (PH-EZR) had been operating to Amsterdam Schiphol from Krakow on 7 February last year, says the Dutch Safety Board in a third-quarter bulletin.
It states that the captain was the flying pilot and that visual meteorological conditions prevailed.
The aircraft was vectored for the runway 18R approach but joined at a shorter distance to the threshold than normal, although the crew told air traffic controllers that this was not an issue.
But as the aircraft closed to 3nm from the runway – when it would typically have been at 1,000ft – it was still some 1,000ft above the correct descent profile.
Despite efforts to put the E190 on track, the aircraft's approach remained unstable at 500ft. But the crew persisted with the descent, subsequently receiving "sink rate" alerts from the ground-proximity warning system at 300ft.
While both pilots realised the aircraft was not descending as quickly as required, the situation was "not discussed", says the inquiry.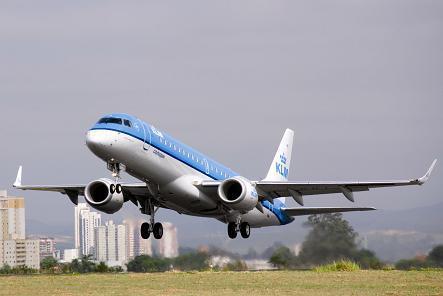 "The captain saw a chance to control the situation and turn the approach into a landing," it adds, while the first officer "expected the captain to correct the situation".
Although the first officer stated that the approach was not stable at 500ft, and the crew received an alarm, no go-around was executed – contrary to the carrier's standard procedures.
"While the first officer constantly had the possibility of a go-around in mind, he did not mention it," says the Dutch Safety Board.
The inquiry says the captain's experience and familiarity with Schiphol, his conviction that a safe landing could be conducted, and the length of runway 18R might all have contributed to his decision.
But it points out that crew resource management training is designed to teach pilots to discuss abnormal situations during flight, irrespective of their rank.
"Owing to a lack of communication between the crew members, the situation arose," it states. "This incident emphasises the importance of correctly applying the crew resource management principle."