US investigators have yet to locate a cockpit-voice recorder from the Cessna Citation V business jet which crashed in Virginia on 4 June after its pilot became unresponsive.
The aircraft had not been fitted with a flight-data recorder, nor was it required to be. Maintenance inspection records, however, indicate the jet, as of May this year, was equipped with a cockpit-voice recorder.
But the US National Transportation Safety Board says this recorder has "not been located".
The jet had flown, with a single pilot, from Melbourne in Florida to Elizabethton in Tennessee, where it was refuelled and three passengers boarded. It then took off for Long Island MacArthur airport.
Air-ground radio communications show the pilot contacted Atlanta en route centre as the aircraft passed 9,300ft while climbing to 10,000ft. The controller cleared the flight to climb to 23,000ft.
Upon reaching 23,000ft the pilot contacted another Atlanta controller who cleared a further climb to 29,000ft and subsequently to 34,000ft. Both clearances were read back, the second as the aircraft was flying at around 28,000ft.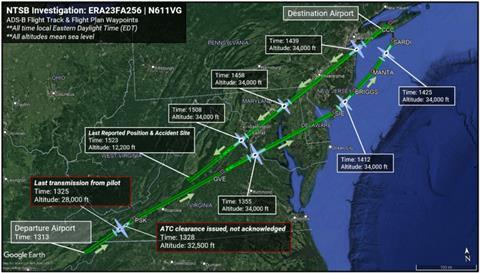 But when the controller, some 3min later, asked the pilot to halt the climb at 33,000ft owing to crossing air traffic, there was no response. The jet continued to climb and levelled at 34,000ft.
"No further radio transmissions from the pilot were received for the remainder of the flight, despite repeated attempts to contact the pilot," says the safety board in preliminary findings.
Surveillance data shows the aircraft's course was consistent with its filed flightplan. The jet arrived over MacArthur airport 1h 19min after take-off, having maintained 34,000ft, where upon it turned southwest.
It continued flying for about 48min on a heading of about 240° at 34,000ft with "little deviation" from its course, says the inquiry, before being intercepted by fighter aircraft.
"The pilot was unresponsive to several radio transmissions, intercept flight manoeuvres, and flare deployments," it adds.
Just 2min after the intercept the Citation entered a rapid, right-hand spiral descent and crashed into mountainous and forested terrain near Montebello. The wreckage was extremely fragmented, consistent with a near-vertical, high-speed impact. None of the four occupants survived.
Investigators state that the cockpit of the jet (N611VG) was destroyed and the condition of the wreckage meant flight-control continuity could not be established. The pilot held ratings for various aircraft, including the Citation V, and had accumulated over 34,500h total time including 850h on type. He was issued a first-class medical certificate in October last year.