Search efforts to find a missing Douglas DC-3 of the Colombian carrier Aerolineas Andinas Aliansa are concentrating on a region west of the town of Restrepo in the Meta district.
The aircraft departed Villavicencio for a training flight early on 8 July, according to the airline.
Restrepo lies about 5nm along the extended centreline of Villavicencio La Vanguardia airport's runway 05.
The region being searched is about 40nm south-east of the Colombian capital Bogota, and is characterised by high terrain and forest.
Colombian aviation authority Aerocivil says an air force helicopter is supporting the search.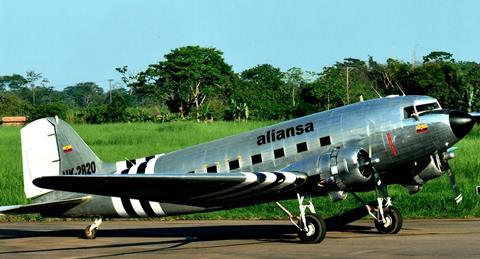 Poor weather conditions have hampered the effort overnight, says Aliansa operational safety director Diego Mauricio Arias Grajales.
Aerocivil says the aircraft (HK-2820) took off at 07:00 on 8 July, but radar and communications contact was lost at 07:05.
"Civil aeronautics search and rescue personnel – as well as other agencies – began work to try to locate the aircraft and its occupants," says the regulator.
Preliminary information indicates three occupants were on board the DC-3, it adds, but it is unable to confirm the status of the aircraft or the individuals.
Aerocivil's registry lists the aircraft as bearing serial number 20171.
Aliansa says it was operating a "local training flight" but puts the loss of communication at 07:19, some 20min after departure.