Colombian investigators are probing a runway excursion during landing involving a Douglas DC-3 operated by the local carrier Aerolineas Andinas Aliansa.
The aircraft (HK-2006) had been arriving at San Jose del Guaviare airport, which has a single runway around 1,400m in length, having flown from Pacua some 320km to the south-east.
It touched down at about 16:20 on 26 August, says the Colombian aviation authority Aeronautica Civil.
The aircraft "experienced a runway excursion" during the landing, but none of the three crew members – the only occupants – was injured.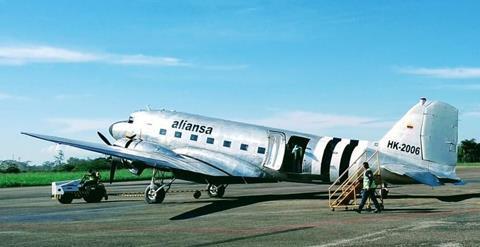 Aeronautica Civil says the aircraft suffered "minor damage" and came to rest inside the security perimeter of the airport.
Investigators are travelling to San Jose del Guaviare to conduct an inquiry.
The airline's director of operations, Jhon Sixto Acero, says the even "did not cause any serious injury to the people on board" and that the only damage to the aircraft was inflicted on its left wheel.
Aeronautica Civil has given few details of the aircraft involved, but the organisation previously investigated a serious landing accident to a 1944-built DC-3 with the same registration, and bearing the serial number 43086, in January 2008.
It had been operated by Viarco on the route from San Jose del Guaviare to Teresita airport but was badly damaged during the landing, suffering an undercarriage collapse and engine fire. None of the 13 occupants was injured.