Colombian investigators are probing an accident with a Douglas DC-3 carrying the same registration as aircraft involved in at least two previous landing mishaps.
The aircraft, identified by civil aviation regulator Aerocivil as HK-2006, was being operated by local carrier Aerolineas Andinas Aliansa.
It had been conducting a service from Mitu to Monfort, near the south-eastern border with Brazil, on 28 February.
Aerocivil says the aircraft was carrying no passengers, only a crew of three, when it "crashed while landing" on the runway at Monfort at about 15:07.
"The three occupants were unharmed," it adds. "However, the aircraft suffered considerable damage."
It says a team of investigators has been dispatched to Monfort to commence an inquiry into the cause. Images on social media purporting to show the scene indicate the aircraft's right-hand main landing-gear collapsed.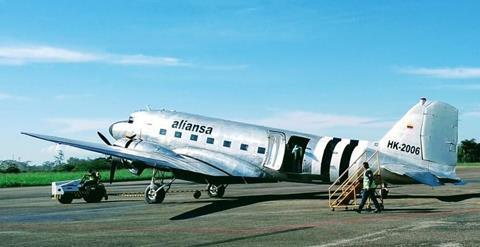 An Aliansa DC-3 registered HK-2006 experienced a runway excursion at San Jose del Guaviare airport six months ago, on 26 August last year.
It had arrived after a flight from Pacua. None of the three crew at the time was injured, and the aircraft was only sustained minor wheel damage.
But Aerocivil has also previously investigated an accident in January 2008 which badly damaged a DC-3, operated by Viarco, as it landed at Teresita airport. That aircraft was similarly registered HK-2006.
None of the 13 occupants was injured but the landing-gear collapsed and the DC-3, arriving from San Jose del Guaviare, suffered an engine fire.
At the time of the inquiry Aerocivil listed that aircraft as bearing serial number 43086 and its current registry shows HK-2006 remains assigned to an aircraft with the same serial number.