Commercial pilots are being warned that the status of aeronautical information services for Afghanistan is unknown while air traffic services remain unavailable in the country's airspace.
NOTAMs for the Kabul flight information region state that any transit through the airspace "will be uncontrolled" and that surrounding FIRs have been notified of the situation.
Aircraft planning to transit the Kabul FIR are being advised to re-route. The NOTAM adds that the airspace has been "released to the military".
"Most flights are avoiding the Kabul FIR," says the international pilots federation IFALPA, which is being updated by a contingency co-ordination team for Afghan airspace.
The airspace was already the subject of warnings and cautions from various regulators – including US, Canadian, French, German and UK authorities – owing to the presence of anti-aircraft weaponry, with commercial flights advised not to transit below 25,000-26,000ft.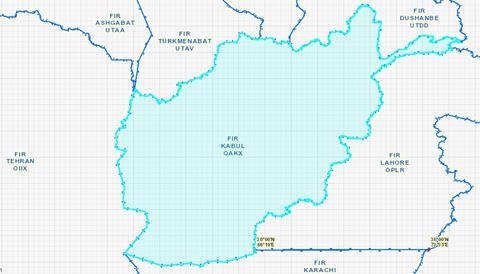 Kabul's area control centre has issued a NOTAM stating that, owing to the security situation, aircraft transiting Afghanistan "will be flying in uncontrolled airspace at their own risk".
It gives specific radio frequencies for aircraft operating on air traffic routes L750 and N644 crossing from Turkmenistan as well as A466 and P500 in Uzbekistan and Pakistan respectively.
Kabul airport is open only to military traffic until further notice, the NOTAM says.
According to the contingency co-ordination information, ICAO has not been notified of any activation of Afghanistan air traffic management contingency plans.
"All relevant states are urged to activate any contingency arrangements they may have relating to non-availability of [air traffic services] in the Kabul FIR," it adds.
Several states in the Gulf and Indian subcontinent region are particularly potentially affected, and are being urged to take a "likelihood of increased non-normal traffic" through their airspace, or flights operating on routes other than those usually flown.