European regulators have expressed doubts over Russian authorities' ability to exercise sufficient safety oversight of the large number of leased foreign-owned aircraft seized by the government after sanctions were imposed on the air transport sector.
The European Commission has detailed its reasons for blacklisting 21 airlines over their continued operation of hundreds of aircraft grounded by Bermudan and Irish civil aviation authorities respectively on 12 and 15 March.
In documentation accompanying the blacklist, the Commission states that Russian air transport regulator Rosaviatsia has assumed oversight functions "without any co-ordination" with Bermudan and Irish counterparts.
"There is no verifiable evidence to conclude that [Rosaviatsia] has developed the necessary safety oversight capacity to adequately perform such an extended oversight responsibility on such short notice, and over such an extensive number of aircraft," it adds.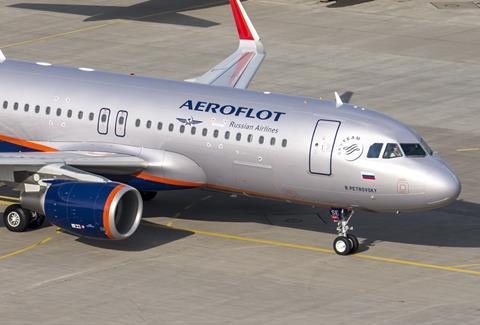 Rosaviatsia had previously stated that it had granted extended certification to a number of maintenance organisations to broaden their capabilities to include additional Airbus and Boeing models.
The Russian government has sought to assume oversight responsibility by placing the aircraft on the domestic register, without the consent of the aircraft owners or safety-related collaboration with the Bermuda Civil Aviation Authority or Irish Aviation Authority.
Such action is "in breach" of the Chicago Convention article which states that aircraft cannot be validly registered in more than one country, says the Commission documentation.
"As a result of the applicable restrictive measures, engineering and technical support to [Russian airlines] has become limited," it adds.
"Lack of this engineering and technical support, coupled with the increased surveillance activity stemming from the addition of the significant number of new aircraft on the Russian registry, will increase [Rosaviatsia's] workload and the need for expertise."
It says this is "unlikely to be immediately achievable" given the sanctions situation and the fact that oversight activity has previously been conducted through bilateral agreements that handed the duties to Bermuda and Ireland.
The Commission's documentation also points out that there is an operational impact from Russian carriers' having only limited access to updates of navigation and ground-proximity warning system databases.
It warns that this lack of access risks "seriously impairing the safe navigation abilities" of aircraft certified by Rosaviatsia and operated by Russian airlines.
Rosaviatsia had previously been informed by the Commission of its concerns regarding aviation safety oversight, and the potential for airlines being blacklisted, and was given the opportunity to use its right of defence by testifying before the European Union's air safety committee.
But Rosaviatsia told the Commission on 31 March that it rejected the allegations over safety performance of the airlines it oversees, and that it believes it upholds in full its responsibilities under ICAO.
The Commission says, however, that Rosaviatsia "did not…provide any evidence or information" to support its statements and "did not demonstrate" how it discharges its responsibilities for regulatory duties under the Chicago Convention.
Given the "absence of willingness" from Rosaviatsia to co-operate with the Commission and European Union governments, and its demonstration of "serious safety deficiencies" by allowing flights to take place "in breach of relevant international safety standards", the Commission has added the Russian operators – which include several major airlines, among them Aeroflot, S7 Airlines, Utair and Ural Airlines – to its blacklist.