Investigators probing the overrun that destroyed a Boeing 747-400F at Halifax have highlighted the contribution of poorly-presented NOTAM information to the accident.
The safety hazard posed by complex and cluttered NOTAMs is an issue being tackled by an ICAO campaign initiated earlier this year.
Transportation Safety Board of Canada says the Sky Lease Cargo freighter's crew received 98 NOTAMs prior to departing Chicago O'Hare for Halifax.
Thirty-seven of these NOTAMs concerned Halifax, and 22 were about runway 05/23, referring to unserviceable navigation aids, runway lighting, and a displaced threshold due to work in progress.
Ten of the 22 runway NOTAMs contained repeated information with modifications but had to be compared with the previous version in order to identify any differences.
All of the NOTAMs were presented in the sequence they were issued, without being prioritised, and all in a format containing entirely-capitalised text.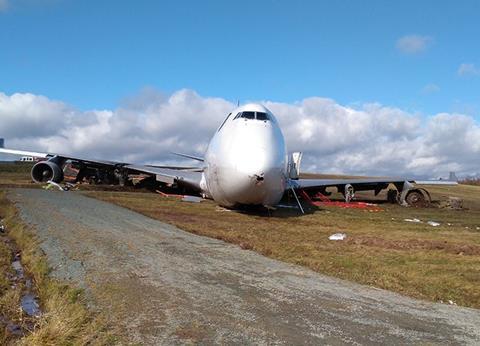 "NOTAMs are intended to be a clear, concise and unambiguous presentation of essential information," says the safety board's inquiry into the 7 November 2018 overrun.
"It is difficult to reliably extract the crucial information because of their presentation style, using all capital letters, and because of their sequence, in which important approach and runway NOTAMs are not prioritised but buried among other information."
Those reading the NOTAMs must search "back and forth" to compare and extract information, in order to build a list of unavailable approaches or runways.
"This extraction process of elimination is usually performed mentally, increasing the risk of misinterpretation, resulting in the crew having an inaccurate mental model of the operational hazards affecting a flight, and reducing the crew's situational awareness," adds the inquiry.
Having read through the NOTAMs the Sky Lease 747 crew concluded that no approaches or lighting were available for runway 05/23 when, in fact, two approaches – involving NDB aids or lateral navigation – were an option.
The crew instead chose to conduct an ILS approach to Halifax's runway 14, which was shorter than runway 23, even taking into account the displaced threshold on 23.
Investigators determined that the 747 was subjected to a tailwind during the approach to runway 14 and that decisions including the use of a 25° flap setting, rather than 30°, further increased the landing distance.
Complications during the touchdown, including deviation from the centreline and a lack of crew focus on the deceleration, meant maximum braking was not applied until the aircraft was just 800ft from the end of the runway. It overran and dropped over a steep slope, sustaining extensive damage. Three of the four occupants received minor injuries.