Congolese government officials have identified a Let L-410 turboprop involved in a fatal accident during take-off as being operated by local carrier Kin Avia.
The aircraft (9S-GRJ) had been conducting a 16 June freight flight from Kavumu, in the far east of the Democratic Republic of Congo, near the Rwandan border, to Shabunda about 165km to the west.
According to the country's minister of transport, Cherubin Okende Senga, the accident occurred about 11:15. The twin-turboprop was transporting 1.6t of cargo.
"During the take-off phase the aircraft departed from its initial trajectory [and struck the ground] three minutes later," the minister states.
Three occupants of the aircraft – including the captain and first officer – did not survive the accident.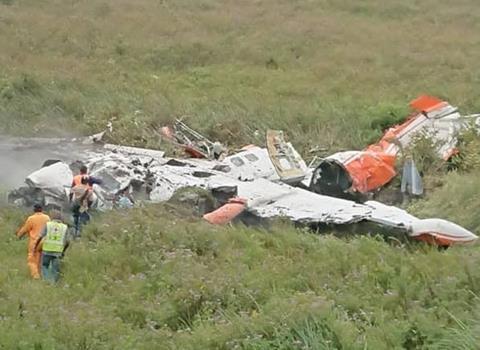 Images from the scene of the crash suggest the aircraft was in a near-level attitude but suffered a substantial vertical impact.
Okende Senga says the government has set up an inquiry to determine the cause of the accident.
Cirium fleets data lists the aircraft as a 1987 airframe, powered by General Electric M601 engines, originally delivered to Soviet-era Aeroflot. It was acquired by Kin Avia, which operates several L-410s, in 2007.