US investigators probing the crash of a Fairchild SA227 Metroliner in Wisconsin have found the aircraft experienced an uncommanded roll after the crew disconnected the autopilot during approach.
The twin-turboprop, part of the Ameriflight fleet, had been inbound to Waukesha County airport on 15 November following a flight from New Orleans.
Two pilots and a passenger were on board the aircraft which was operating an on-demand cargo service.
It had been conducting an ILS approach to runway 10, with the autopilot engaged, and had intercepted the localiser and glideslope.
But the crew noticed the command bars on the flight director were "indicating a climbing right turn", says the National Transportation Safety Board in a preliminary statement.
When the crew disconnected the autopilot, and switched to manual flight, the aircraft "immediately" rolled to the right, it adds.
Engine power was increased as both pilots tried to regain control of the aircraft. Although they were able to level it, the Metroliner struck the ground – in a near wings-level attitude – and collided with trees, causing the wings to break away.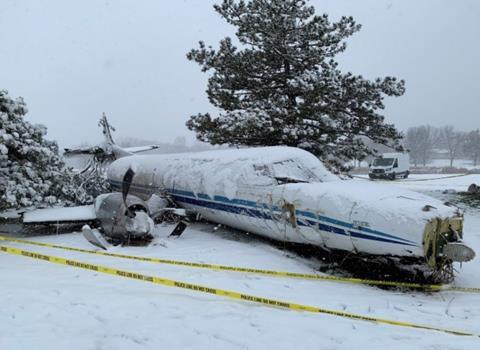 All on board survived with no more than minor injuries but the aircraft (N247DH) was substantially damaged in the crash.
It had originally been delivered in 1985 to the division of DHL Airways which subsequently became Astar Air Cargo.
Dozens of dogs were being transported on the aircraft and had to be rescued after the accident, which occurred on a golf course at Pewaukee, some 2km short of the runway.