Investigators probing an Airbus A320 overrun at Sylt have been unable to understand why the crew increased the aircraft's speed during approach, despite the presence of a moderate tailwind and a water on the runway.
The Air Berlin aircraft (D-ABHO) landed long, some 930m beyond the threshold of Sylt's runway 32, and failed to stop before the runway end, rolling onto rough ground at 44kt.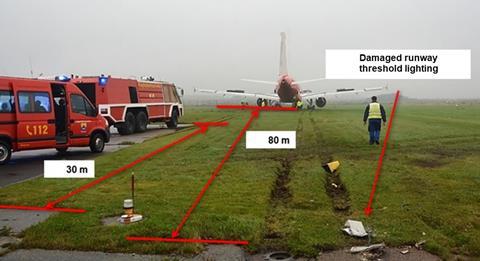 German investigation authority BFU says the captain instructed a 5kt increase on the approach speed but "did not explain" this decision to the first officer.
Although the electronic flightbag had calculated an approach speed of 131kt the aircraft passed the runway threshold with an airspeed of 151kt and groundspeed of 163kt.
BFU says the instructed speed rise increased the required landing distance, but that the distance calculation was not updated.
"This resulted in an approach speed that was too high and not appropriate for the conditions," it states, adding that the decision was "incomprehensible".
"There was a constant tailwind component, without gusts, during the approach and the speed increase was not required."
The tailwind was almost directly behind the aircraft, measured at 12kt as the jet passed the threshold.
BFU states that the higher speed during the approach, resulting in the aircraft's floating, was a "major contributing factor" in the long landing – some 330m outside the prescribed touchdown zone. Analysis shows there was a margin of just 130m between the required and available landing distances.
Investigators found the crew had set the autobrake to 'medium', but started applying maximum manual braking about 5s after touchdown. The standing water on the runway reduced the effect of braking, but the inquiry could not determine whether the aircraft might have stopped in time if maximum braking had been applied sooner.
The A320 overran the runway end by about 80m. None of those on board was injured – disembarking via a mobile staircase – and the aircraft was undamaged during the 30 September 2017 incident.
BFU says the captain had not seen a need to initiate a go-around, while the first officer had not intervened to suggest one.