Safety regulators are advising airlines to pay close attention to the impact of airport operational disruption when planning monthly crew rosters, to take into account potential delays and consequent impact on flight-duty time.
Exercising of captain's discretion should be considered "exceptional", says the European Union Aviation Safety Agency, because delays experienced at airport with a known operational problem cannot be considered "unforeseen circumstances".
"Extension of flight-duty period when operating to and from [such airports] should be kept to a minimum," it states in a safety information bulletin.
"Any crew scheduling which includes the [captain's] discretion is not acceptable and the planning with extensions should be limited."
It adds that this discretion ought to be avoided at the carrier's home base and hubs, where standby or reserve crews should be available.
National civil aviation regulators should check how airlines are ensuring crews remain sufficiently free from fatigue.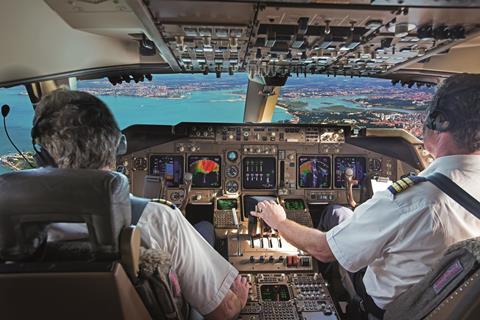 The guidance follows concerns that the rapid recovery of air transport demand is creating pressures on ground-handling services and leading to substantial disruptions.
"While the root cause for those difficulties could be linked to the availability of a sufficient, qualified workforce, EASA is concerned about potential safety risks emerging from, or amplified by, [these] challenges," the safety authority states.
"Difficulties regarding the provision of services at [airports] may result in prolonged flight delays and cancelations. These in turn may lead to increased levels of crew fatigue."
Although the concerns do not warrant a safety directive, says EASA, it has outlined a series of recommendations to airports and carriers.
It says the two sides should co-operate to ensure optimal use of infrastructure and personnel, and airport operators should apply collaborative decision-making processes to identify, and mitigate, emerging operational or capacity issues caused by staff shortages.
Administrative processes – such as issuing identification cards – should be expedited, says EASA.
Airlines and airports should also conduct a specific risk assessment to identify areas which are more vulnerable to safety risks arising from disruption.
"All stakeholders should emphasise, at all levels, the importance of fostering a positive safety culture encouraging the staff to report occurrences with confidence, which is one of the cornerstones of a well-functioning safety risk management process," says EASA.