Russian investigators have highlighted the use of incorrect runway friction data during the probe into a serious incident at Chelyabinsk during which a Bombardier CRJ200 suffered an excursion on landing.
The UVT-Aero aircraft was transporting 33 passengers and three crew members on the service from Kazan which arrived on 1 December.
It conducted its approach at night to runway 09 in a crosswind and light freezing rain.
Federal air transport regulator Rosaviatsia states that, 2h before the aircraft arrived, the airport service measured the runway friction coefficient to be 0.30.
The runway was treated with cleaning reagents, work which stopped 22min before the jet landed.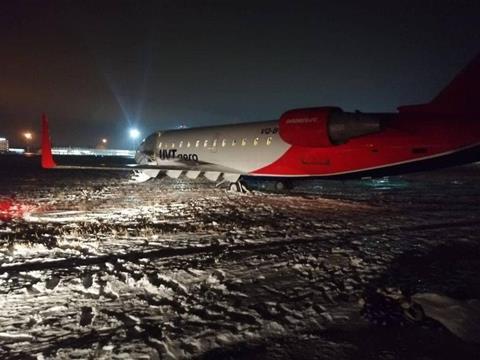 Owing to a malfunction with the measuring equipment, the friction coefficient was not checked. But despite this, the airport's controllers were told that the coefficient was 0.35.
Rosaviatsia says this was a limiting threshold for the crew to make a landing decision taking into account the crosswind.
But the authority adds that – according to actual measurements taken after the incident – the coefficient was actually 0.27.
After touchdown, as the crew disengaged the reverse-thrust, the CRJ200 began an "uncontrolled movement", rolling off the right-hand side of the runway.
It came to a halt some 2,500m from the threshold and 25m off the right shoulder of runway 09.
None of the occupants was injured and the aircraft (VQ-BOQ) was not damaged, says Rosaviatsia.
It states that the aircraft was cleared to an "unprepared" runway through the failure to comply with the necessary procedures in conditions of snow and freezing rain.
"The aircraft crew was given inaccurate information about the runway condition," it says, adding that the situation was facilitated not only by "shortcomings" but also "irresponsibility".
Rosaviatsia points out that similar events occurred in March last year involving Boeing 737s landing at Chelyabinsk, the inquiries into which found that "mismatch" of declared and actual friction coefficients contributed to the incidents.
According to the Ural transport prosecutor's office, a criminal case is being opened on the grounds that service provision at Chelyabinsk airport did not meet customer safety requirements. It alleges that officials from the airport failed to fulfil a set of measures intended for safe flight operations.