Russian investigators believe a serious runway excursion incident involving Yakovlev Yak-40 at St Petersburg resulted from a breach of crosswind limitations during landing.
The Vologda Aviation Enterprise trijet had been arriving from Vologda on 9 April and touched down on Pulkovo airport's runway 10R.
Rain and crosswinds from the right gusting to 25kt were present at the time, according to meteorological data from the airport.
Federal air transport regulator Rosaviatsia's north-west territorial administration states that the aircraft veered off the right side of the runway by 12m during the roll-out.
It says the cause of the incident was the "incorrect calculation" of maximum permitted crosswinds, crosswind limits being exceeded, and crew deviation from Yak-40 operating manual requirements for crosswind landings.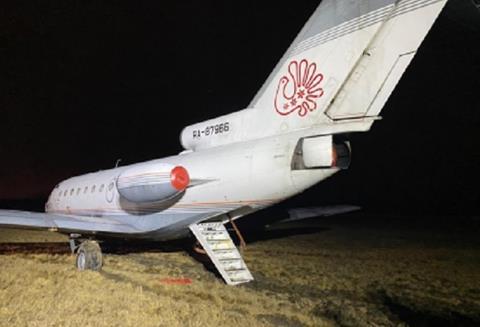 The administration adds that there was a "lack of information" regarding the friction coefficient of the runway at the time of the landing.
It identifies the aircraft involved as RA-87966, which was originally delivered to Aeroflot in 1978. The jet came to a halt on rough grass. Six crew members were the only occupants.
Investigators examining the incident have recommended that Vologda Aviation Enterprise management enhance crew procedures for crosswind landings close to the maximum permitted limits, and ensure pilots ask for friction or braking conditions from air traffic control.