Operators of De Havilland Aircraft Dash 8-400 turboprops are being urged to pay attention to a new maintenance task intended to avoid incidents of engine cowl doors separating from the aircraft on take-off.
De Havilland Aircraft has taken over the production of the aircraft, which was formerly known as the Bombardier Q400.
Transport Canada refers to "a number of reported occurrences" of forward cowl doors falling from the aircraft following maintenance access to the powerplant.
Inspections of recovered doors has shown that all these incidents resulted from the doors being left unsecured – some with latches not closed, others with latches closed before the door was shut, preventing the lock engaging.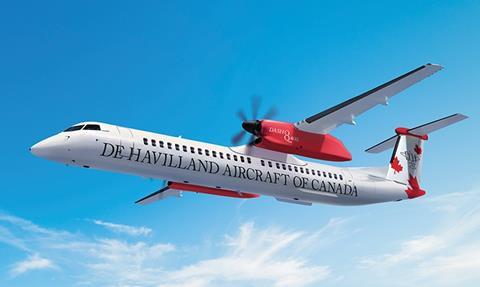 De Havilland Aircraft published a maintenance manual task instruction, featuring a new modification summary which introduces placards for illustrating proper closing of the door, as well as rework modifications to improve latch engagement.
The manufacturer issued an all-operator message in mid-July to draw attention to the change, and Transport Canada – in a 10 September safety alert – is recommending that operators and maintenance personnel become familiarised with the instructions and improvement actions.
"Loss of the cowl door has resulted in damage to the aircraft's wing leading-edge, wing skin and vertical tail structure," says Transport Canada, which states that the alert is to raise awareness of proper maintenance practice, as well as the modifications aimed at preventing further incidents.