US investigators have released images of the Rhoades Aviation Boeing 737-200C which ditched off the coast of Hawaii shortly after departing Honolulu.
Underwater images from the National Transportation Safety Board show the jet's fuselage fractured into at least two large sections, the forward cabin and cockpit detaching ahead of the wings.
One of the aircraft's Pratt & Whitney JT8D engines is also shown resting on the sea floor in the images, dated 7-8 July.
The images suggest the wreckage lies at a depth of about 320-440ft. Marine charts indicate the sea depth off the coast of Honolulu increases rapidly with distance from shore, and the bed largely comprises sand and coral.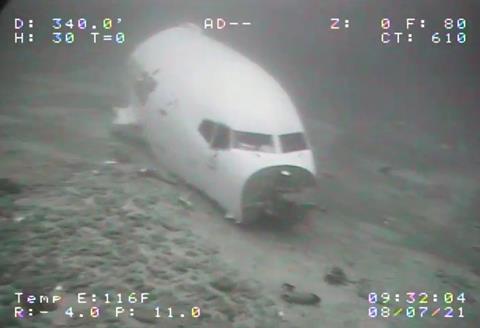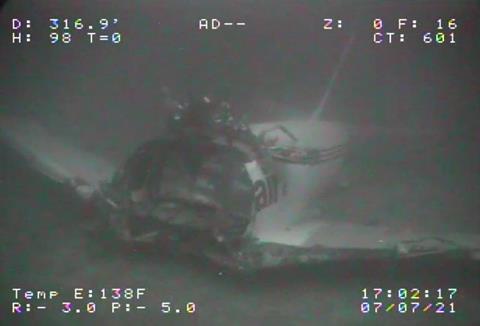 Rhoades Aviation was operating Transair flight T4810 on 2 July when the crew of the aircraft (N810TA) reported engine problems after take-off.
While attempting to return to Honolulu the aircraft came down in the water of Mamala Bay, about 2nm from Ewa Beach. Both crew members survived and were rescued but the aircraft sank.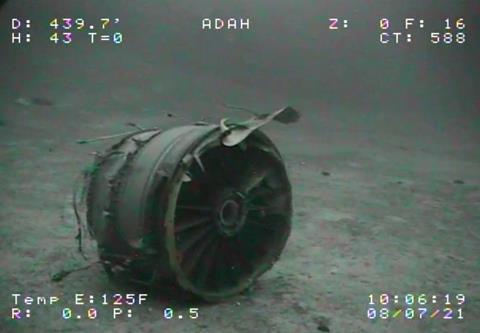 Investigators have yet to determine the reason for the aircraft's apparent engine problems and its failure to maintain sufficient altitude.