One aspect of the Ryanair Boeing 737-800 Minsk diversion incident clarified by the ICAO inquiry is the involvement of an RSK MiG-29 interceptor.
While early reports of the incident, on 23 May last year, had indicated that the military fighter had escorted the Ryanair flight to Minsk, the inquiry reveals that it was nowhere near the aircraft.
The MiG-29 was ordered into the air after the Belarus air force was notified by Minsk area centre controllers that the 737 – operating from Athens to Vilnius – was diverting as a result of a bomb threat.
It took off from Baranovichi air base, some 70nm south-west of Minsk, at 13:04 local time, by which time the 737 had descended to 6,000ft and was vectoring for approach to Minsk's runway 31R.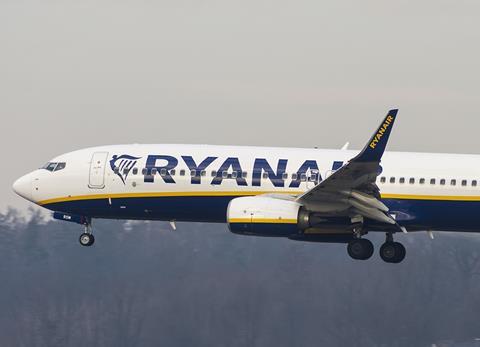 According to the ICAO inquiry the MiG-29 was cleared to an operational zone near the capital, in order to prevent any act of terrorism, and provide monitoring and back-up communications.
The 737 landed at Minsk at 13:15 while the fighter was still 30nm to the south-west, and the MiG-29 headed back to its base a few minutes later.
"From the evidence provided by Belarus, no escort or intercept occurred between the MiG-29 and [the 737] and no communications by the MiG-29 was recorded on the radio channels used by [the Ryanair flight]," the inquiry states.
"According to information provided by the flightcrew and cabin crew there was no communication, interaction, visual sighting or other knowledge of military aircraft involvement with the flight."
One passenger on the 737 had filmed a fighter manoeuvring in the distance but the video was found to have been taken some 8h later, after the Ryanair aircraft departed Minsk for Vilnius, and that a Lithuanian fighter had been assigned to escort the flight from the border to its destination.
"No escort nor intercept by military aircraft occurred with respect to [the 737] within the airspace of Belarus," the inquiry says.
While a Belarusian military Mil Mi-24 helicopter was operating near the north-western border, at the time the 737 was inside the Minsk flight information region, the probe says it played "no role" in the event.