Dutch investigators are recommending that the government assess the risk of parts falling onto residential areas from aircraft departing Maastricht Aachen airport, following an incident in which fragments from a Boeing 747-400 freighter's engine damaged property and injured people on the ground.
The Dutch Safety Board says it has received letters for "several years" from residents in the vicinity of the airport concerned about safety.
These have remarked on such issues as wake turbulence dislodging roof tiles, the vulnerability of a chemical industrial park – known as Chemelot – located north of the airport, and the potential risk to villages from overflight of heavy freighters at low altitude.
The villages include Meerssen which was affected by the shower of debris from the 747's outboard left-hand Pratt & Whitney PW4000 engine when it failed as the jet climbed out of Maastricht, bound for New York JFK, in February 2021.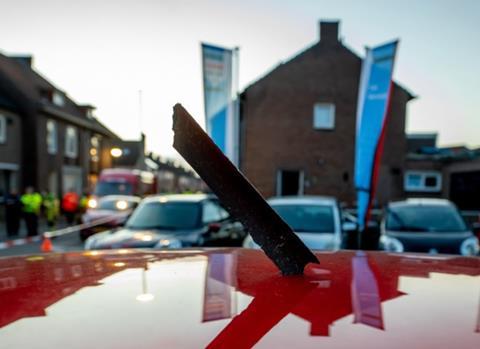 According to the Dutch Safety Board, the incident confirmed the concerns of residents regarding the overflight risk.
The board is recommending that the infrastructure ministry perform and publish a risk assessment.
"Based on the results of such an assessment, an informed decision about the acceptability of these local risks should be made," it adds.
The board acknowledges that the incident might be viewed as having presented relatively little risk, given that the 747, with four engines, remained flyable and diverted to Liege.
But it says the safety level was "adversely affected", and demonstrated the hazard to people on the ground.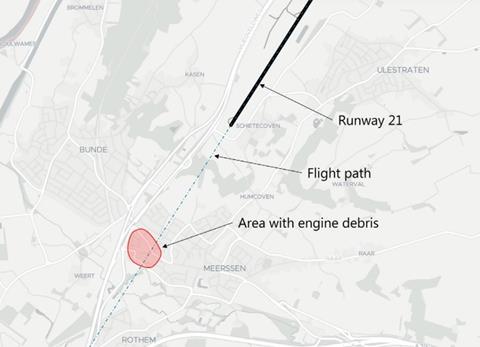 "With the convergence of air traffic over areas surrounding airports, there is an increased risk of occurrences in these areas," the board adds.
"Within aviation, the magnitude of the risk of departing engine debris for people on the ground has not been determined and translated into regulations."
It says the risk of a serious accident in the vicinity of a runway is managed by location-specific risk contours, but these are not applicable to the loss of engine parts. The board says the engine risk should be explored, and highlights the August 2019 incident in which ejected debris from a Norwegian Boeing 787-8 engine damaged property and cars after take-off from Rome.