Brazilian authorities have ordered Embraer 175 operators to conduct urgent checks for wing-tip cracks, following the in-flight loss of a winglet on the variant.
Civil aviation regulator ANAC says there is a "possibility of cracks development" on the wing-tip connection area.
"[This] can affect its structural integrity to the point of an in-flight detachment being possible," it adds in an emergency directive.
One of US regional operator Envoy Air's E175s suffered the loss of its right-hand winglet during a domestic service between Charleston and Dallas on 3 May.
"Even if the aircraft maintains sufficient controllability for a safe continuation of the flight, there is a possibility that the detached part may damage other aircraft parts, affecting controllability," says the directive.
It adds that a separated structure could damage individuals or property on the ground.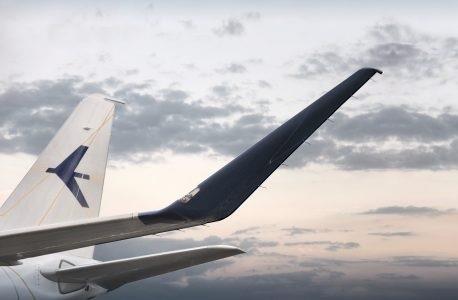 Operators of E175s with specific right- and left-hand wing-tip spars, which have not incorporated a particular Embraer services bulletin, are required to inspect the aircraft within an interval which depends on the number of flight hours accumulated by the jet.
Of the four intervals specified, the strictest – within the next 10 flight hours – is for aircraft with 19,800h or more since spar installation.
Checks required include a detailed inspection of the spar and wing-tip, in the area of their connections, to establish whether there is evidence of cracking. The directive also includes revision of the inspection interval threshold to 1,000h.