Operators of Embraer 195-E2 twinjets have been instructed to upgrade electronic engine-control software following inquiries into rotor disc failures on Airbus A220s.
Both aircraft types use Pratt & Whitney geared-fan engines, and the architecture of the PW1900G powerplant on the E195-E2 is similar to that of the A220's PW1500G.
Investigators analysing a series of rotor failures on A220s believe there is a link to an acoustic resonance phenomenon at high engine speeds, which stimulates a bending mode in the rotor and leads to stress cracks.
Software revision to the electronic engine control, intended to alter vane schedules, increased the likelihood of this problem.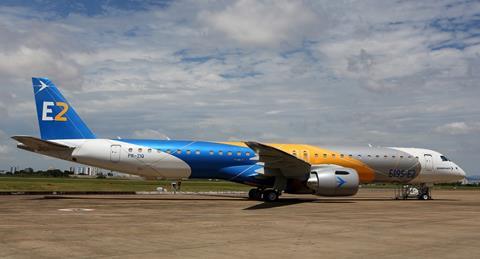 E195-E2s had already been subject to operating restrictions from July last year, including a thrust limitation above 33,000ft.
But the Brazilian aeronautical regulator ANAC has ordered an upgrade to the electronic engine-control software to be carried out within 12 months.
ANAC says software earlier than version 9.5.6 must be changed to version 9.5.6.7 or later. This will enable operators to terminate requirements of the previous directive.
It adds, however, that the upgrade is an interim measure and that continuing investigation into the PW1500G failures might generate further mandatory actions for the PW1900G.
Pratt & Whitney is modifying part of the PW1500G's interior structure to prevent development of the resonance problem.