Europe's air safety regulator expects to publish a final airworthiness directive on modification of the Boeing 737 Max in mid-January, which will mark the formal revocation of the grounding order imposed on the twinjet.
The European Union Aviation Safety Agency has published, on 24 November, a proposed directive on the modifications which will remain open for consultation for 28 days.
Once the consultation period expires, EASA says it will examine any comments prior to finalising the directive, publication of which will amount to a "formal ungrounding" of the aircraft.
"After the return to service, EASA has committed to monitor the [737 Max] closely in service, to allow for early detection of any problems that may arise," it adds.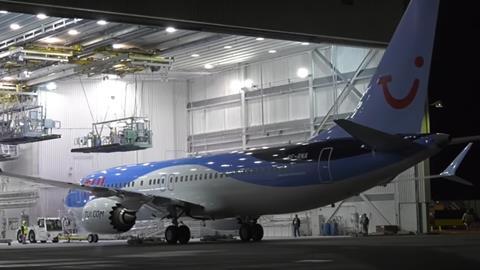 The modifications will be backed up by a new mandatory training programme for pilots – including simulator time – to ensure that crews are familiar with the aircraft's flight-control system and possible failure scenarios.
EASA says it intends, as a result of the publication, to clear the 737 Max to return to operation with European carriers – and those operating under third-country authorisations – within "a matter of weeks".
Some 20 personnel from the authority have been working to support efforts by Boeing and the US FAA to change the aircraft's flight-control design, particularly the controversial MCAS software, which was designed to counter pitch-up tendencies but which which was linked to two fatal accidents in Indonesia and Ethiopia.
"EASA made clear from the outset that we would conduct our own objective and independent assessment of the 737 Max," says executive director Patrick Ky.
"I am confident that we have left no stone unturned in our assessment of the aircraft with its changed design approach."
Ky insists the EASA review of the Max has gone "far beyond" the MCAS software to encompass the entire flight-control system and other areas of the aircraft's design.
"We also pushed the aircraft to its limits during flight tests, assessed the behaviour of the aircraft in failure scenarios, and could confirm that the aircraft is stable and has no tendency to pitch up, even without the MCAS," he adds.
EASA says a crucial issue with MCAS was that pilots were unaware that the system existed, and were unable to understand the system's erratic behaviour if – as with the two accidents – a single angle-of-attack sensor malfunctioned.
The directive mandates software updates for MCAS and other aspects of the flight-control system, including an alert for disagreement between the two angle-of-attack sensors.
It mandates new training for all 737 Max pilots as well as operational readiness flights, without passengers, to ensure correct implementation of all revisions and that the aircraft functions as it should, given the long period of storage since the March 2019 grounding.