European safety regulators have extended the approval for passenger aircraft to serve as temporary freighters until at least the end of July next year.
Several carriers opted to modify cabin interiors to transport cargo to enable passenger aircraft, which would otherwise have been parked, to continue earning revenues during the depths of the pandemic crisis.
The European Union Aviation Safety Agency permitted the temporary modifications as long as the exposure to risk of a catastrophic cargo fire was mitigated by operational limitations.
This risk calculation was based on conservative assumptions of the number of aircraft likely to be converted and the forecast number of annual flight hours for such aircraft, plus the probability of a fire breaking out on board.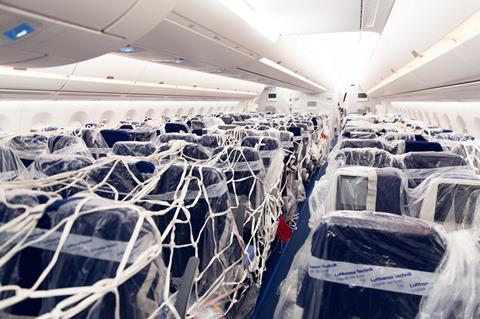 EASA considered that a maximum of 2,500 aircraft would be modified by 31 December this year and – on the basis that a cargo fire has a probability of one in 10 million flight hours, and not all are catastrophic – allowed each to fly up to 2,000h until that date.
But the regulator says the number of converted aircraft has been "significantly lower" than initially assumed, and it had approved a "very low number" of design changes by 30 June this year.
EASA adds that the risks are changing as travel restrictions ease and modified aircraft are restored to normal passenger operation.
It states that a "reasonable and sufficiently conservative" measure is to allow each converted aircraft to continue flying until 31 July 2022.
"The operating limitation applicable to the number of flight hours remains unchanged," it adds.
EASA will continue monitoring the design changes approved in order to ensure that the assumptions on which the safety risk is calculated remain valid.