Europe's safety regulator is stressing the need to strengthen operators' systematic reporting to aircraft manufacturers, or other design approval holders, regarding occurrences involving human intervention.
Airframers make assumptions about expected crew behaviour in order to demonstrate compliance with certification criteria, says the European Union Aviation Safety Agency.
But in order for airframers – or other design approval holders – to identify and analyse any deviation from these assumptions, EASA says aircraft operators need to provide them with "systematic and comprehensive" information on occurrences or trends which might reveal "shortcomings" in cockpit design, procedures, or training.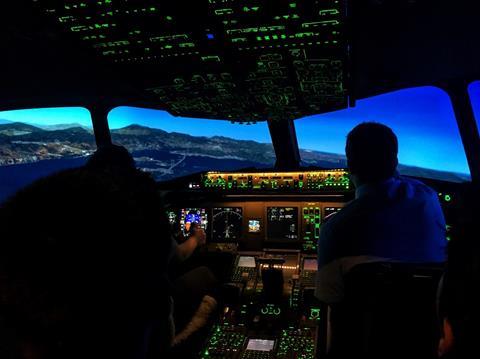 EASA is emphasising the need to reinforce such reporting of events involving actions taken by crews, and has issued guidance on the type of events for which reporting is expected.
These include late, inaccurate or absent detection of visual, aural or kinaesthetic warning signals, or a crew's inability to develop an action plan.
EASA also highlights response and execution errors such as timing, sequencing, mismatched actions or lack of co-ordination, as well as communication problems.
In a newly-issued safety information bulletin, the regulator details supporting information which operators ought to provide to design approval holders.
EASA is further recommending that operators also report events detected by instructors and examiners during simulator training and checks.