Safety regulators are seeking a better understanding of the threat posed by lithium battery-powered personal electronic devices, through a newly-initiated European research project.
Lithium batteries have the potential to ignite from thermal runaway, generating fire and toxic smoke, and the European Union Aviation Safety Agency is looking to characterise the hazards presented by personal devices.
"The provisions for the transport of lithium batteries by passengers in the aircraft cabin do not currently establish limits in terms of number of items that can be brought aboard," it states.
"In addition, the limits on the power of batteries are not based on any scientific data."
Through the research project, tendering for which is underway, EASA aims to collect data to identify risks arising from representative devices – including phones, laptop computers, tablets, tools or drones – carried by passengers or crew.
According to the formal project documentation the testing regime should examine "realistic" scenarios which could occur during flight, such as overcharging, charging failure, or seat mechanism damage to the device.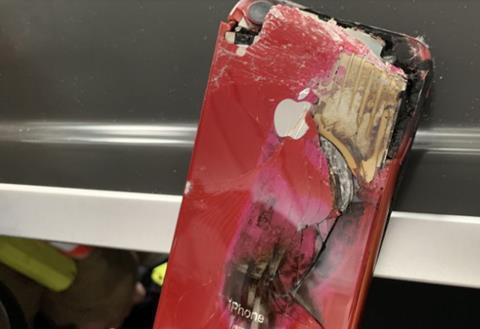 Incident data should assist with identifying common threats, and consideration should be given to physical and chemical characteristics of smoke including airflow, volume and composition.
"Since it is unknown at the moment whether there is a pattern in the evolution of battery thermal-runaway events caused by different batteries or devices, part of the task will consist of considering similarities and coincidences during the testing that could be taken as a base to establish a certain pattern," the documentation adds.
The testing should look at tolerances for the cabin and cockpit, examining potential limitations of aircraft systems.
While a cockpit event poses a threat to flight safety, the documentation says, the consequences in the cabin "may as well be catastrophic" because passengers are not well-trained in using masks.
EASA says the energy capacity limits established for carriage of lithium-ion batteries are 100Wh, and 160Wh with operator approval, and there are also limits for lithium-metal batteries.
But it says there is no known scientific data supporting this requirement.
"Forthcoming technologies requiring either more powerful or longer-lasting batteries make it necessary to find scientific evidence to support these limits," it states.
"Although, in principle, these limits have been found to be appropriate and there is no intention to challenge them at the moment, it is important to know whether an increase or decrease in such values will result in a proportional increase or decrease of the associated risk."
EASA says the assessment shall provide sufficient data with which to analyse the limits, and adds that it should look at the possible risks from increasing numbers of devices and spare batteries carried in the cabin, and determine the level at which this higher risk becomes unacceptable.