Safety regulators in Europe are aiming to tighten engine certification requirements to take into account forward and rearward release of uncontained debris in the event of a powerplant failure.
Analysis of fan-blade failures indicates that certification of engines could be improved, says the European Union Aviation Safety Agency, particularly by "better integrating" analysis and identification of potential threats to the aircraft type to which the engine is to be fitted.
It cites the case of a Southwest Airlines Boeing 737-700 which suffered uncontained failure of its left-hand CFM International CFM56 engine in April 2018. Parts of the engine cowl struck the fuselage and damaged a window, causing rapid depressurisation and fatally injuring a passenger.
The accident was traced to a low-cycle fatigue crack in a fan blade, which separated and struck a critical part of the fan case structure.
EASA says the potential release of uncontained debris in the forward and rearward directions is "not sufficiently addressed" by certification specifications, and limited only to provisions relating to blade-containment testing.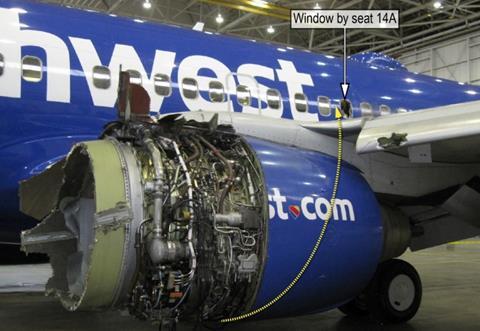 Aircraft manufacturers must be given data from engine tests to ascertain the forces on aircraft structures from out-of-balance engines still running after blade failures.
But EASA says that displacements and loads transmitted to the structure of the engine nacelle itself have not been adequately considered during certification of some aircraft and powerplants.
EASA is proposing to amend certification criteria to require that compressor and turbine blades are "radially contained" after failure.
"This would better reflect the actual design and certification practices regarding engine casing strength," it says.
At the end of containment tests there should be no other hazardous engine effect resulting from the blade failure – including debris being released forwards or rearwards – unless the probability of such an effect can be shown to be extremely remote.
Engine model validated data submitted to aircraft manufacturers should include dynamic displacement of nacelle attachment features, the proposal states.