Europe's air transport safety authority has laid out pioneering proposals for integrating operation of air taxis within cities, using innovative vertical take-off aircraft, with rules complementing those previously drawn up for unmanned aircraft systems.
The proposals cover airworthiness and flight-crew licensing, as well as air operations, and the European Union Aviation Safety Agency has opened a public consultation which will run to the end of September.
"With this, EASA becomes the first aviation regulator worldwide to release a comprehensive regulatory framework for operations of VTOL-capable aircraft, which will offer air taxi and similar services," says executive director Patrick Ky.
EASA has defined a concept of 'innovative aerial services' which encompasses the various operations enabled by new technologies, of which 'innovative air mobility' is a subset which, in turn, includes urban air mobility.
It says analysis of existing regulations suggested a "lack" of adequate regulatory frameworks to maintain the necessary level of safety for certain operations, including those of manned designs capable of VTOL.
New and amended regulations are necessary to enable urban air mobility implementation and "help build up [European citizens'] trust" regarding passenger VTOL aircraft operations, as well as those using unmanned vehicles, the EASA proposal states.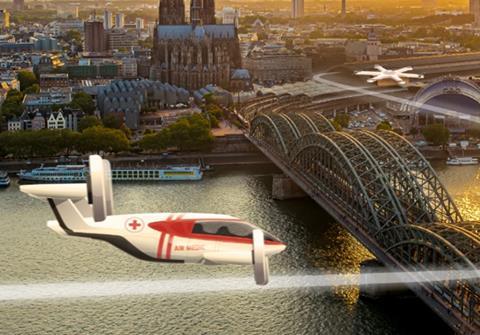 EASA is to make use of regulatory structures available for aircraft and helicopters, with suitable amendments to account for novel design and propulsion – the definition of 'helicopter' will be limited in order to ensure a "clear distinction" from new VTOL-capable transports.
"While it is expected that most of the initial operations with VTOL-capable aircraft will be commercial by nature…novel aircraft designs and their frequent use over densely-populated urban areas dictate an innovative approach, rather than the traditional differentiation of 'commercial' versus 'non-commercial'," says the proposal.
"This new approach is operation-centric and requires the same level of safety for the same safety risks, irrespective of the purpose of the flight."
Given that manned VTOL-capable aircraft are likely to be ready for operations before comprehensive crew licensing and training requirements are finalised, EASA is putting forward a "bridging solution" allowing commercial pilot licences to be endorsed with VTOL-capable type ratings.
Although this solution means only pilots holding a licence for conventional aircraft will be permitted to operate manned VTOL-capable types – meaning there will be no immediate possibility for ab initio training on them – EASA says the intention is to limit operation of such aircraft to experienced pilots during the initial phase.
"Experience gained during this phase will contribute to the development of a robust and comprehensive flight-crew licensing framework for manned VTOL-capable aircraft with a future [proposal]," it adds.
EASA has also set out a framework for rules of the air, focusing on predefined routes which will provide for conflict avoidance and support noise protection – although it acknowledges that this could limits on certain operations. It says the alternative, to allow free routing in urban environments, would pose hazards given the lack of verified detect-and-avoid capabilities for unmanned aerial systems sharing the airspace.
"Publication [of the proposal] reinforces the leadership EASA is showing in this area of innovation," says Ky.
"At the same time, we have done our best to address general societal concerns and the expectations of EU citizens with respect to safety, security, privacy, environment and noise."