Airbus A320-family operators are set to be instructed to carry out repetitive inspections of windshield components after a main cockpit window on a Chinese A319 blew out in cruise nearly three years ago.
About 40min after taking off from Chongqing for Lhasa, the Sichuan Airlines aircraft had been flying at 9,800m (32,100ft) when the first officer's window began to crack and was then blasted from its cockpit frame.
The aircraft, about 2.2nm west of waypoint MIKOS on airway B213, depressurised from its cabin altitude of 6,272ft.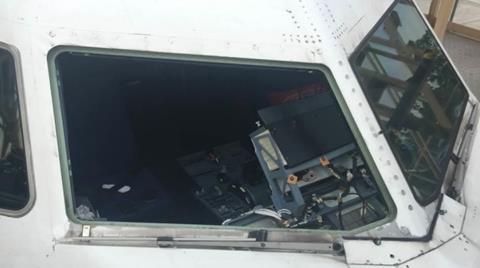 Inquiries by the Civil Aviation Administration of China concluded that external water vapour probably infiltrated the windshield's seal, as a result of damage, and over time affected the insulation of electrical wiring located at the bottom edge.
This eventually led to continuous electrical discharge arcing in the lower left windshield corner, resulting in localised high temperatures which caused the glass to fracture, weakening it until it could not withstand the differential air pressure between the cockpit interior and the external atmosphere.
The European Union Aviation Safety Agency says such a situation would require "exceptional piloting skill" to maintain control of the aircraft, and would inflict damage to systems and injuries on the crew.
Airbus has drawn up a service bulletin containing instructions for repetitive detailed inspection and electrical test measurement of left- and right-hand windshields.
EASA is proposing differing inspection and test regimes depending on the specific windshield part numbers involved.
Certain windshield require these checks to be undertaken within 750h, 750 cycles or four months, while intervals for other parts depend on the windshield age and utilisation as well as its maintenance history – including whether 'windshield sensor' fault messages have been recorded.
EASA is inviting comments on its proposal until 30 March.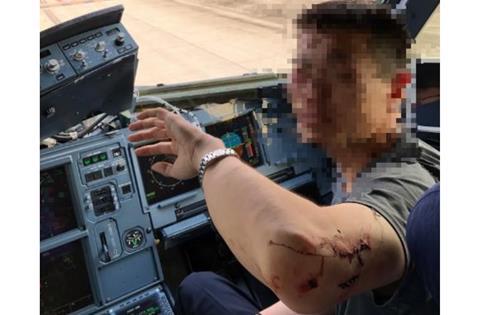 The Sichuan aircraft involved in the blow-out event (B-6419) on 14 May 2018 was seven years old at the time. No prior fault had been recorded on the right-hand windshield, which was the one originally installed during the A319's manufacture.
Multiple circuit-breakers popped as the windshield failed and several aircraft systems failed. The captain and first officer were both wearing seatbelts, says the CAAC.
Of the 128 occupants, the first officer and a member of the cabin crew were the only ones to sustain injuries. The aircraft, which received minor external damage, landed at Chengdu about 35min after the incident.